The North Delhi Municipal Corporation deployed bulldozers to demolish purportedly illegal constructions at Jahangirpuri, where clashes broke out on Saturday between Hindu and Muslim groups. Several of BJP's rivals said the action was a fallout of that incident.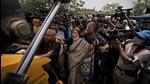 The Left party had invited Tharoor and former Union minister Thomas to attend seminars ahead of its 23rd Party Congress.

Calling the inauguration of projects "desperation" on part of the BJP, CPI(M) general secretary Sitaram Yechury said that the people in Uttar Pradesh and Uttarakhand – both ruled by the BJP and going into polls next year, are "today dissatisfied" with the state governments.
Written by Sharangee Dutta | Edited by Avik Roy
, Hindustan Times, New Delhi
The contest in the Bhabanipur by-polls, Ghosh said, is between the TMC and BJP, and that the presence of CPI(M)-Congress candidates will not make any difference.

Written by Sharangee Dutta | Edited by Avik Roy
, Hindustan Times, New Delhi
The monsoon session is expected to be quite stormy, with the Opposition gearing up to corner the ruling BJP-led NDA government over a host of issues ranging from farmers' agitation, privatisation, and the Supreme Court's comments on the validity of sedition laws