Bullion slid to its lowest intraday level in more than nine months after posting a fourth weekly loss Friday. Investors concerned about the prospect of a global economic downturn have turned in droves to the dollar, which is already up more than 2% this month.

Published on Jul 12, 2022 12:25 PM IST
Gold imports in June are expected to fall further below 60 tonnes as a demand, that surged in May, has started to falter due to the recent rebound in prices.

Published on Jun 06, 2022 11:04 PM IST
While scanning the checked-in baggage of the passenger, the image of a dark object was noticed.

Published on May 29, 2022 11:08 PM IST
The Delhi customs on Thursday said two APHO employees were caught helping an Indian passenger from Saudi Arabia smuggle the gold into the country.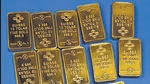 Updated on May 28, 2022 04:00 AM IST
The gold bars were concealed under the cushion of the seat, allegedly to be collected by airline staff. A passenger has been detained and the ground staff are under examination.

Published on Nov 16, 2021 07:50 PM IST