How the Japanese and Japan blew away Nakuul Mehta's mind
There is a lot more to Japan than its Sakura, bento boxes or the Shinkansens. It is here the true essence of Athithi Devo Bhava manifests in middle of all abundant beauty and grace, as experienced by actor Nakuul Mehta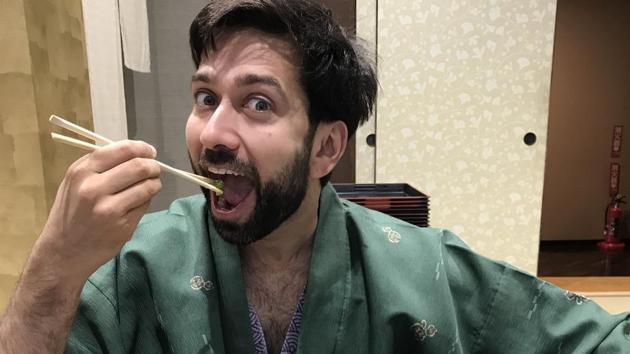 Updated on May 14, 2018 04:17 PM IST
Growing up, I was made to believe that 'Atithi Devo Bhava' is a Sanskrit phrase, which meant 'Guest is God', but it took a trip to Japan to realise that this phrase truly belonged there. Nothing could have prepared me for the beauty, grace and the level of automation inspite of hearing this from friends who went there before, reading countless travel blogs and hours of research on the web.
As much as Japan may be popular for its Sakura (cherry blossoms), the bento boxes, the countless vending machines, Matcha, Ikebana, Geisha, Samurai's and the Shinkansen's (bullet train), Japan or Nihon (as they call it), truly resides in its people, their overwhelming kindness and immense gratitude for everything.
Not once or twice, but every day on our two-week-long trip to Japan, we met with random acts of kindness which totally blew us away. From having the restaurant manager chasing us half a mile on foot to return our umbrella to Japanese college kids who we met at a bar in Kyoto volunteering to drop us to the airport 50 miles away at the dead of the night.
Contrary to popular perception, the food was a real highlight and was exceptional everywhere from high-end restaurants to local joints, even for vegetarians/vegans like us. We enjoyed Vegan ramen for the first time, experienced an exquisite 12 course Zen Buddhist vegetarian meal, and ate tempura, soba noodles, Okonomiyaki, Japanese curry and the most delicious tofu.
I reckon two weeks is a decent time to get a good feel of the culture, the land and its people. We travelled to Tokyo, Hakone (Mount Fuji), Kyoto (cultural capital) and Osaka (kitchen of Japan) and amidst the many things which stood out, one has to mention the fully automated Japanese WC's. Who wouldn't love heated toilet seats, temperature controlled water jets in different angles, music option just in case you'd want to save yourself from the embarrassing sounds & a deodorant button to top up the rear cleaning process. Fancy, eh?
Tokyo
Tokyo was our first stop and we fell in love right from the word go. We chose to stay close to Shinjuku, away from the crazy sounds, the neon-lit streets and hoards of tourists but yet close enough to stumble home from a night of tasting local whiskey at Golden Gai or Karaoke at Kabuchiku.
Yotsuya, our quiet neighbourhood was also close to the famous, Shibuya Crossing (world's busiest crossing). Recall spending an evening grabbing a Sakura-flavoured latte and staring at the beautiful-orderly chaos which is Shibuya. There is so much discipline, calm and method even in their chaos and that to me really made Tokyo stand out from any other major city in the world. Their shyness can be misconstrued for not being friendly but ask a local for help or directions and they would go out of their way to assist you, language barrier notwithstanding.
Our apartment came with bicycles and we ended up biking to the Shinjuku Gyoen Garden and the under-construction Olympic stadium. The Asakusa Shrine, a must visit, was also possibly the only place we saw fellow Indians.
The hidden gems in Tokyo really are in the bylanes and alleys of famous neighbourhoods. Walking into art and design studios in the bylanes of Harajuku is the kind of stuff you'd never find on the internet. One of the most fun nights was hanging out at a local Izakaya (Japanese pub) in Roppongi, where at a fixed rate, you can drink as much you like. This community eating and drinking experience is unique to Tokyo and we ended up meeting a lot of locals who are now friends.
Pro tip: Tourist spots, do them early morning to avoid a sea of people and to take great pictures.
Hakone
Our next stop was Hakone. We took the Romance Car and just as the name of the carrier suggested — fell in love with Hakone. Staying in a Ryokan (simple room with tatami mats) and experiencing the Onsen was an experience which took you back in time. But what really blew us away was viewing the Mount Fuji from a cruise on Lake Ashi.
Pro tip: Check the weather at Hakone before planning a day trip. If it is raining or cloudy, you will not be able to see Mount Fuji.
Kyoto
Known as the cultural capital of Japan, Kyoto made us travellers, a bit of a tourist. Experience the entire Geisha culture, walk down the Gion district and learn about their training, induction and life. If you are a lover of all things classic and vintage, The Rocking Chair Bar in Kyoto is unmissable.
Pro tip: Do not ask a Geisha for pictures. They usually don't oblige and if they are dressed and out of their homes, they are usually getting to work and don't like being called out.
Osaka
Osaka is a paradise for food lovers. We checked into our apartment and headed straight to Dōtonbori to indulge in their local specialities. The sight, aroma and people queuing up to get their junk fix will make you want to hang out on this street. We ended up in a queue for over an hour, way past midnight at a food truck to get a 'Hot bun ice cream' which was quite unlike any dessert we have eaten.
Pro tip: The aquarium at Osaka is one of the best in the world.
Japan is an experience like no other. Yes, there could be a language barrier, it might feel expensive, hotel/ apartments are cramped, you may get lost but at the end of the day, a slight bow and 'Arigato Gozaimisu' with a big smile will usually cover most situations.
Travel essentials:
1. Purchase a JR Pass (Japan Railways) before leaving for Japan. You will need it if you intend making day trips from Tokyo or are travelling within Japan.
2. In Japan, you have the unique facility to courier your luggage from one city to another which makes the travel hassle free and is widely used by tourists.
3. If you are a vegetarian, download the app, Happy Cow. Best way to identify vegan & vegetarian restaurants near you.
4. If you are more than one person travelling, just rent a pocket Wi-Fi from the airport and share it amongst your travel buddies.
6. If you wish to do the Maricar experience, get an International driving license.
7. Japan is essentially a cash economy and make sure you carry sufficient Yen.
Must do in Japan
Dress up as Mario characters and drive a go-kart on the main streets of Tokyo.
Stay in a tatami room in a Ryokan (traditional Japanese Inn) in Hakone.
Experience an Onsen (hot spring bath) in Hakone. It is medicinal and relaxing
Have the traditional Sake and enjoy some fine Japanese whiskey.
Rent a Kimono and walk around Kyoto like you belong there.
If you are a tech or anime geek, visit Akihabara for new innovations before they hit the world.
Close Story
Personalise your news feed. Follow trending topics