'We just lived and breathed Everest'
Updated on Jan 26, 2013 04:40 PM IST
Recounts Major Neha Bhatnagar, one of the six women army officers who scaled Mt Everest. Their journey was chronicled for a television show that will be screened today.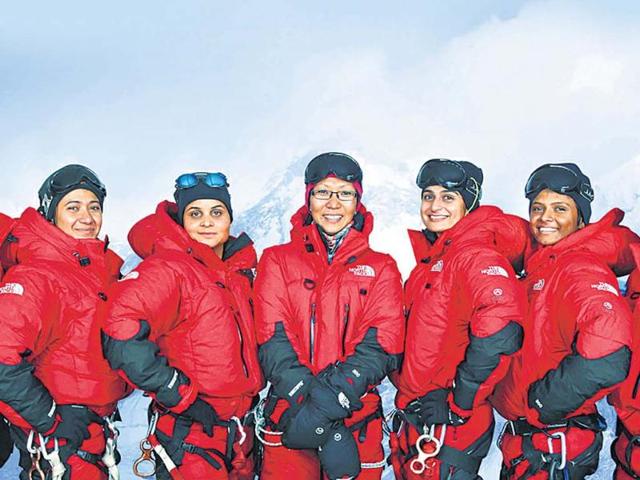 Hindustan Times |
Serena Menon
My six colleagues and I started training to climb Mount Everest in March 2011. Every day till March 2012, we continued preparing for the journey of a lifetime to the highest point on Earth. For that year and a half, we lived and breathed Everest.

We watched documentary films and read books to understand where we were heading. We were trained to climb, taught technical skills, physically trained and mentally prepared.
Then finally on March 22, 2012, we took off for Kathmandu. On April 18, we reached the base camp, which is where you start climbing from. Then for the next 45 days, we climbed up and down, and up and down, until we finally reached the summit on May 25 and 26. People usually believe that scaling the Everest is all about continuously climbing up, but it's not. You have to climb up to set up base, then climb back down and then climb up again at times.
Once you're higher up, the conditions get tough on the body, so much so that the body tends to start feeding on itself for protein and oxygen. That's why, before leaving, we were made to put on some weight. Water also becomes a source for that oxygen, which is why we had to keep adding hydration medicines to it while drinking. And those ORS mixes made the water taste so terrible. We carried a lot of Milkmaid to eat because it's the only thing that doesn't freeze. And it tastes nice. For a lot of those 45 days, we lived on Maggi, soup and tea. One of my colleagues actually started throwing up every time she ate Maggi because she got so bored and, literally, sick of it. Then we started making variations of Maggi; we added Milkmaid, chicken soup, tomato soup and whatever we could to alter the taste.
Finally, came the day when we were going to embark on the final climb towards the summit. When you reach there, at first, you just marvel at how majestic it is. You've reached the highest point on earth. There is nowhere else to go. There's a neighbouring peak called Lhotse, it is the fourth-highest peak in the world, yet from where we were, it looked so insignificant. The clouds were beneath us.
Initially, I couldn't react, and then it finally sank in. I would love to go back again. Scaling it was more than an adventure. It was a learning experience. It proves that there is no limit to human competence. Women tend to think that they are weak, but they are not. The mountains are the fairest judges; they put everyone — of different ages, caste, religions, races and gender — to the same test. Beyond that, it depends on you and your mind and how badly you want to make it.
Personalise your news feed. Follow trending topics