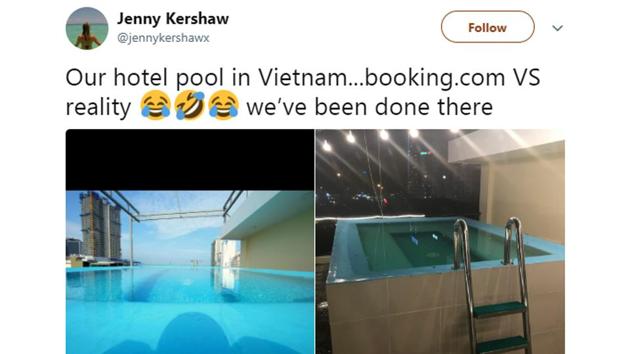 Woman shares misleading photo of hotel's lavish pool, the internet is cracking up
Expectation Versus Reality!
UPDATED ON MAY 18, 2018 05:34 PM IST
Almost everyone has fallen into the marketing trap of travel booking websites at least once in their life. We get carried away with the fantastic photos only to find that the reality is nothing close to what we saw online.
Jenny Kershaw, from England's Manchester, was also the victim of such "trick photography" after she found out the pool in the hotel she booked into only looked gorgeous in the pictures and was nothing but a tiny hot tub.
Kershaw took to Twitter on May 12 to share pictures of her expectation versus reality moment. She tweeted the glossy photo of the pool on booking.com and the picture she had taken side-by-side.
The contrast between the photos was so striking that social media users couldn't help bursting into a laughter.
The tweet has collected more than 78,000 retweets and 170,000 likes since being shared.
Many found Kershaw's experience relatable and others shared tips to avoid being misled.
Booking.com later reached out to Kershaw, asking her to make a formal complaint with the help of their customer service team.
Close