Beagle thinks waiting like this will make dad come home faster. Watch dog video
Published on Jun 07, 2022 10:35 AM IST
The dog video that shows how a beagle waits for its pet dad was posted on Instagram.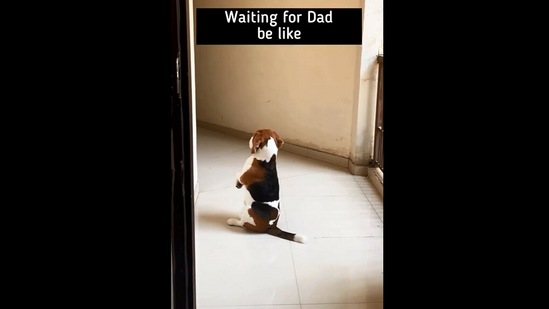 Pet parents often miss their pet babies while they are away from them. But what is cuter is how much these pets - be it cats or dogs - miss their humans while they are away. They spend pretty much the whole day wondering when their beloved humans will be back and when they will be reunited with them to enjoy some play time that they deserve every bit of. And, this is exactly the case with this one particular Beagle whose video has been going viral on Instagram ever since it was shared.
This dog is named Doodle and embodies the emotion that pretty much every pet has when their humans are outside of their house. This particular dog can be seen sitting in a very specific way which makes it think that its human will come home sooner. The video is extremely cute to watch and has been making people smile.
"Trying everything so that he comes back home. The best bond ever I have seen. Also this is for all those who think we force him to sit like this. In fact it's the opposite, we ask him not to sometimes," reads the caption that accompanies this viral dog video. The caption is complete with the emoji of a red heart.
Watch the dog video here:
The video was shared on Instagram three days ago and has received over 1.2 million views as of now. The dog video has also prompted people to post comments on how hilarious yet adorable this video is.
An Instagram user writes, "The way he turns and looks, so adorable." "True unconditional love," reads another comment. A third comment reads, "Too cute baby. "
What are your thoughts on this cute dog video?
Personalise your news feed. Follow trending topics