Can you correctly identify two big cats shown in this picture shared by an IFS officer?
Nov 28, 2022 08:05 PM IST
While many posted correct answers, some even explained the difference between the two big cats.
Praveen Kaswan, an officer of the Indian Forest Service, took to Twitter to share a quiz with his 4.2 lakh followers. The mind-boggling share that has left many scratching their heads shows two big cats, a leopard and a jaguar, with their backs. And people need to spot the difference between them on the basis of their patterns.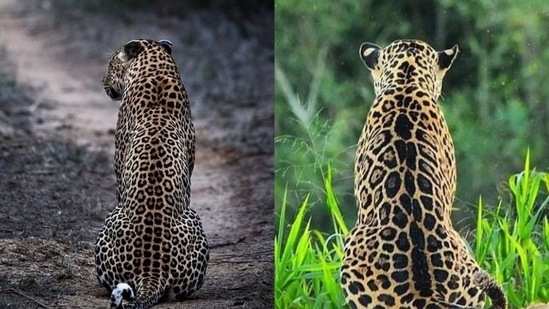 "Lets see how many can identify. Which one of them is Jaguar & which one is Leopard. The pattern makes the difference, apart from other things," tweeted IFS officer Praveen Kaswan while sharing two photos.
Take a look at the tweet shared by IFS officer Praveen Kaswan below:
Since being shared a few hours ago, the tweet has raked up many likes and retweets. Many even posted answers in the comments section.
A Twitter user shared basic differences between the two big cats.
Another listed differences between leopards and jaguars based on their coat, body and face.
An individual differentiated between the two cats shown in the picture based on rosettes.
According to National Geographic, both big cats have 'spotted coats' and a very 'similar appearance'. Leopards have 'smaller, less complex rosettes', which are 'grouped closer together' as compared to the intricate rosettes of jaguars.