Couple from Argentina sets world record for having the most body modifications
Updated on Nov 25, 2022 01:04 PM IST
A couple from Argentina has set world record for having the most amount of body modifications. Take a look inside.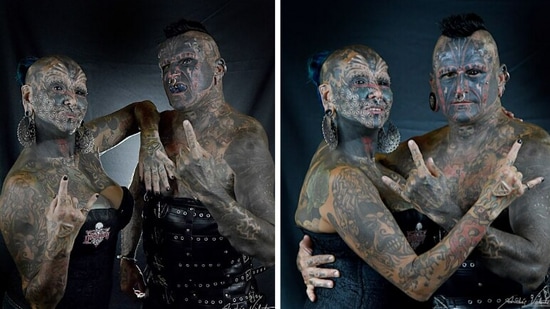 Gabriela and Victor Hugo Peralta, a couple from Argentina, have broken the record for the most body alterations. The duo has gotten 98 tattoos and other body alterations so far because they are passionate about them. As per Guinness World Records, They first set the world record in 2014 with 84 modifications. However, since they were enthusiastic about it, the duo continued to get tattoos and other modifications, so now their total stands at 98.
Watch: Couple sets record with nearly 100 body modifications; Netizens 'horrified' | WHAT'S BUZZING
The Guinness World Records also further added, About 24 years ago, Gabriela and Victor met at a motorcycling event in Buenos Aires, Argentina, and fell in love with each other. They knew then that they would spend the rest of their lives following their passion for bodily alterations and implants, some of which, they confess, are extremely painful.
Victor told Guinness World Records, "For me, being a Guinness World Records holder is a prize that life gives me for the love of body art, and I am very grateful because this record helped me achieve one of my big dreams: traveling to 20 countries, getting to know different cultures, and making new friendships around the world."
Together the couple has 50 piercings, eight microdermals, 14 body implants, five dental implants, four ear expanders, two ear bolts, and one forked tongue.
Take a look at the couple below:
This post was shared two days ago. Since being shared, it has been liked 30,000 times and has several comments. One person in the Instagram comments said, "What are the odds that they found one another??!" A second person said, "Human canvases." A third user wrote, "This is amazing."
Personalise your news feed. Follow trending topics