Man lands a job interview on a dating app, netizens call it the 'new LinkedIn'
Jan 24, 2023 12:51 PM IST
A Twitter user shared how he landed a job interview on Bumble, a dating app, and it has sparked chatter online with people calling it the 'new LinkedIn'.
While most people scour and swipe right on dating apps to find a perfect partner, a Twitter user ended up pitching for a job to his match. He even shared a screenshot of his conversation regarding the job, and it has created a buzz online. While many pointed out that people's priorities have shifted in the 'age of layoffs,' others shared that the dating app 'is the new LinkedIn'.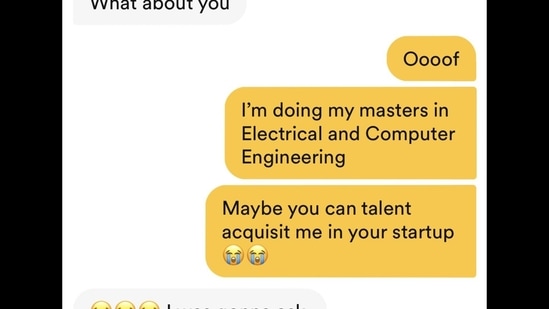 (Also Read: Starbucks sells 'Ajji approved filter coffee' for ₹290, netizens react)
According to the now-viral screenshot, the conversation starts on Bumble with the other person informing Adnaan that they work as HR at a startup. "Hahahaha. I'm in HR. Talent Acquisition at a startup. What about you?" they wrote. To this, Adnan replied that he is doing a master's in electrical and computer engineering and, in the following message, pitches for a job. He wrote, "Maybe you can talent acquisit (sic) me in your startup." And to his surprise, the person on the other end wasn't taken aback by his approach, instead enquired about the jobs he is interested in. They also asked Adnaan if he was graduating this year. They wrote, "I was gonna ask what kind of jobs you're looking for. LOL. Are you graduating this year?" While tweeting a screenshot of this conversation, Adnaan wrote on Twitter, "You use LinkedIn for jobs. I use Bumble. We're not the same bro."
He later informed in the post's comments section that his efforts had bore fruits and that he would be interviewing for a job at the startup. "I'm interviewing here just finalizing the dates. Haha," wrote Adnaan.
Take a look at the tweet below:
Since being shared two days ago on Twitter, the post has accumulated over 6.5 lakh views. It has also amassed more than 13,000 likes and thousands of retweets. The share has also received many responses from Internet users.
Here's how Twitter users have reacted to the post:
"Long ago there was a meme which said, any app is tinder if you are Indian enough. I guess in the age of layoffs, our priorities have shifted," commented an individual. "IMO you're just doing god's work by balancing out the people who are flirting on LinkedIn by recruiting on bumble," posted another. "Simping on LinkedIn and networking on Bumble. How the turntables…," shared a third. "Bumble is the new LinkedIn," joked a fourth. "LinkedIn and reddit be my next destination, Insta, Twitter, Snapchat,WhatsApp and BeReal check and check," expressed a fifth.