Man surprises father with his dream bike, his reaction is adorable. Watch
Dec 12, 2022 10:56 AM IST
The video that captures a man surprising his father with his dream bike was shared on Instagram.
Several times we all have tried to surprise our parents. Whether it was on their birthdays, anniversary, or even randomly, many children wish to do the best for their parents and make them happy with every little thing. A recent video shows something similar to do that. In a video shared by Instagram user @usidbodypro, you can see him surprising his father with a new bike.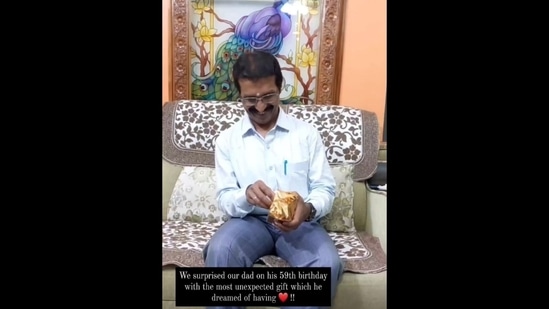 In the post's caption, the man explained that when he and his father went to a bike showroom, his father liked a bike there. However, he couldn't buy it as it was not affordable. So, to turn his dream into a reality, his son managed to buy that bike after a year. In the caption, he wrote, "He loved it so much because it was the exact same bike which his dad used to ride the older version of this back in his days!! So thought there could not be any much of a gift than this, which makes him happy. I'm thankful to God for giving me the strength to fulfill his dreams; whatever I'm today, it's because of your support."
Take a look at his post below:
Since this video was shared, it has been liked more than three lakh times and has had several heartwarming reactions.
An Instagram user commented, "God bless you kids; dad looks sooooo happy." A second person added, "His expression is so adorable." A third person said, "That happiness in his eyes is so precious, man....God bless all." Many others have reacted using heart emojis.
Topics