Men dance to Jhoome Jo Pathaan in a theatre, audience cheers for them
Feb 01, 2023 01:53 PM IST
A video that has gone viral online shows a duo dancing to Jhoome Jo Pathaan in the middle of a theatre. Many in the theatre can be seen cheering them.
Shah Rukh Khan and Deepika Padukone's Pathaan has become a huge hit among the masses. Social media is flooded with praise for the film. Not only that, but people are even recreating the hook steps of the popular songs from the film. One such video that has left many stunned is of two men dancing in the middle of a theatre to the song Jhoome Jo Pathaan.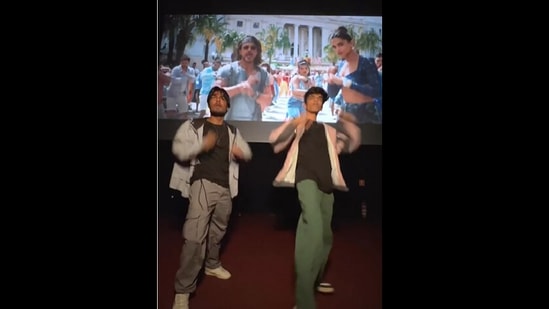 The video begins to show the song Jhoome Jo Pathaan playing at a theatre. When the song plays, two men jump in front of the screen and recreate the hook steps. As they are dancing, the audience claps and cheers for them. This video was shared on Instagram by @shaileshvailesh.
In the post's caption, they wrote, "Nobody can match his swag, but we tried to match him at least. We might go again to do this again. Let us know in the comments who's joining."
Take a look at the video here:
This video was shared four days ago. Since being uploaded online, it has been liked by more than nine lakh people, and the number is only increasing. The clip has also amassed several comments.
Take a look at some of the reactions below:
One person in the Instagram comments section said, "You two stole the show for sure." Another person added, "Literally, I watched this many times. Just awesome moves." "Mind-blowing dance," added a third.