Orphaned chimpanzee meets new family for the first time. Watch heartwarming video
Published on Nov 26, 2022 01:24 PM IST
The video of an orphaned chimpanzee meeting its new family for the first time was posted on Instagram.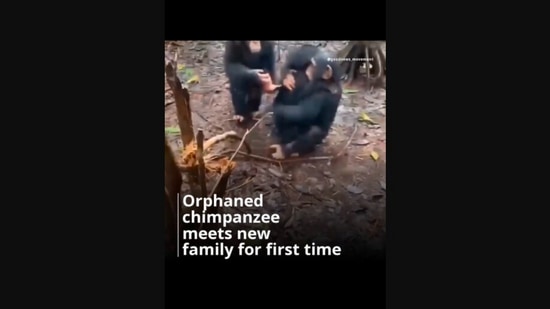 There are some videos on the Internet that tug at people's heartstrings. One such video was recently posted online and since being shared, it has been winning people's hearts. The wonderful video shows an orphaned chimpanzee meeting its new family for the first time.
The video was originally posted on the official Instagram page of a rescue organization. However, the clip captured people's attention after being re-posted on the Insta page Goodnews Movement. They also shared a detailed caption along with the video.
"'WELCOME!!!': Hugs all around for this young chimp named Beckley who is meeting all of his new family for the first time. The orphaned chimpanzees at this sanctuary in West Africa require around the clock care. Thanks to the dedicated caregivers and staff, the orphans are being rehabilitated so that they will be able to thrive with others in a natural and safe environment when they're older," they posted.
Take a look at the video that is spreading happiness:
The video was shared nearly 14 hours ago. Since being posted, the clip has accumulated more than 1.8 million views. The share has also received several comments and likes.
"I keep watching it, the one who hugged him and fell back is gonna be his bestie boo!! Followed him the whole way," posted an Instagram user. "I love how one of his new friends kept following him and giving him hugs when some of the others wouldn't," expressed another. "I love how one of them went with him and introduced him to all the others. I bet that's gonna be his new bff," commented a third. "Why can't we be like this? I love that one little guy who hugged him first then followed him down the trail with his hand on his back as if he's introducing Beckley to the others," wrote a fourth.
Topics