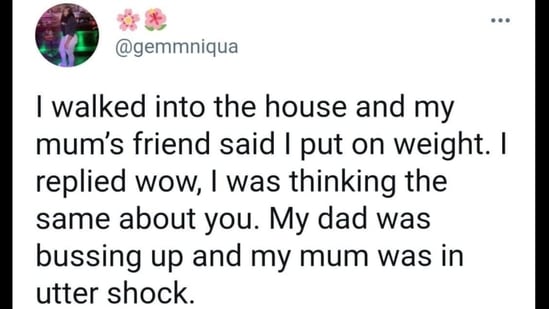 Someone told this girl that she put on weight. Her sassy reply may wow you
A Twitter user shared what she said in reply to her mom's friend who remarked that she had put on weight. The tweet has gone viral.
By Khyati Sanger
PUBLISHED ON JUN 15, 2021 08:12 PM IST
You must have come across people who think it's okay to casually remark on your weight or looks when they see you. Well, this girl knows a sassy reply for such occasions.
A Twitter user, Gemmniqua, shared how she had just entered her home when her mom's friend said she put on weight. To this remark she replied, "Wow, I was thinking the same about you."
She further said that her reply left her dad laughing loudly while her mom was left utterly shocked. The tweet has now gone viral and left netizens in splits.
Check out the tweet:
The tweet, shared on June 13, has garnered over two million likes, more than 21,000 retweets, and several comments. Some netizens found the tweet hilarious, while others mentioned they are eager to use the comeback too.
"Why are people even comfortable saying this to people like it's some sort of greeting?" one commented. "And they get mad when it's thrown back at them. It's crazy," shared another. "It's time to start keeping that same energy, it's the only way they'll learn," a third expressed. "This a good comeback, lemme note this," a fourth mentioned.
What do you think about this comeback?
Topics
Close