Toddler runs into grandparents' arms, netizens love their reactions. Watch
Published on Aug 26, 2022 03:42 PM IST
A video showing the beautiful bond between grandparents and grandkids was posted on Instagram.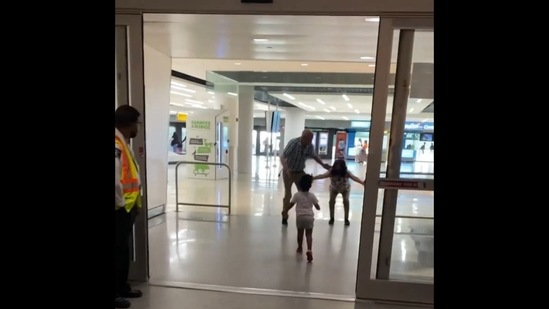 The unmatched bond between grandparents and grandkids is beyond beautiful. Videos of elderly people spending time with their grandkids are always a treat to watch. Just like this heartwarming video showing a pair of grandparents meeting their grandkids at an airport.
The video was posted by an Instagram user named Elizabeth Castro. The video opens to show a text insert that adds context to the clip. "POV: Flying home and running into your grandparents' arms." The video then shows a small kid running towards her grandparents waiting outside for their grandkids with their arms wide open.
The user posted the video with a long caption. She wrote, "POV: Flying home and your grandparents are waiting at the airport to give you the snuggles you've dreamed of."
"I'm so grateful for these moments and I want to savor each one. Life is short. I'm going to spend as much time with my parents as I can. We live 1,300 miles away so that means we fly back and forth as much as we can, and we are so privileged to be able to do so. It's worth it every time," she added further.
Watch the wholesome video here:
The video was posted on August 7 and soon it amassed more than three million views. The heartfelt video prompted several users to post comments with heart emoticons. One of the Instagram users commented, "I'll become a grandma next Wednesday. I cannot begin to tell you how much I'm looking forward to it." "Speaking for Grandmas, we cherish those moments!! So glad you can do that!!!" commented another. "What a blessing," expressed a third.
Topics
Personalise your news feed. Follow trending topics