Bigg Boss 12 day 46 summary: Sreesanth becomes captain with a huge majority, promises to mend his ways
Bigg Boss 12: Sreesanth and Jasleen Matharu competed in the captaincy task with the cricketer emerging as the new captain. He successfully managed to patch up his relationship with other contestants and win their support.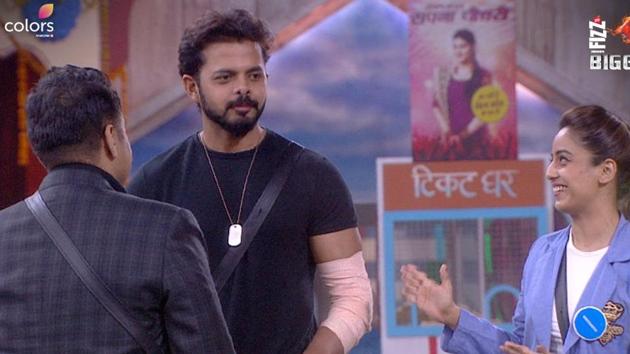 Updated on Nov 02, 2018 11:18 AM IST
Diwali came early for the Bigg Boss 12 contestants who were given an opportunity to go shopping, savour good food and enjoy a thrilling dance act by Sapna Choudhary. Just a day before on the reality show, Sreesanth had verbally abused guest contestant Vikas Gupta by making homophobic comments against him. However, it was now the time to appoint the new captain of the house and Sreesanth gauged the situation well and claimed he had learnt his lessons. He felt sorry for his deeds and tried to patch up with everyone.
Bigg Boss asked the winners of the BB Rangoli Pratiyogita to mutually nominate two contestants for the captaincy task. After a lot of discussion, Sreesanth and Jasleen Matharu were nominated to compete with each other in order to become the new captain. A Diwali Mela was organised for the purpose and had three rounds. The house inmates were told to wear the badges bearing the name of either of the two contestants to show their support for the contender.
In the first round, Jasleen Matharu was given 1.50 lakh points which could be given to the contestants as currency to buy clothes from a special stall organised by Sana Khan. Most of the contestants sported the pink badge in Jasleen's support in order to get points from her. They exchanged the points at Sana's stall with expensive clothes for the upcoming Diwali festivities.
In the second round, Sreesanth was given 1.50 lakh points which could be used to buy tickets to Haryanvi sensation Sapna Choudhary's dance show. The contestants changed their badges to blue to support him and bought the tickets for the show in exchange of the points given by the former cricketer. It was a mega Diwali celebration for the house inmates as they danced their hearts out till late night.
The third round required both Sreesanth and Jasleen to give points to the contestants in order to buy food from a special stall. While both of them treated the house inmates to good food, the majority supported Sreesanth for the post of the captain. Only Somi Khan stood in support of Jasleen and praised her for fighting till the end.
Soon after the Bigg Boss announced Sreesanth as the new captain of the house, he apologised for all his mistakes he has ever committed in the house. He even patched up with Karanvir Bohra with a hug. However, things are expected to turn ugly in the house as Sreesanth will flip over to take revenge from Karanvir for hurting him during a task.
Follow @htshowbiz for more
Close Story
Personalise your news feed. Follow trending topics