Bigg Boss 12, Weekend Ka Vaar, day 14 highlights: Nirmal Singh evicted but Romil stays back
Oct 01, 2018 09:32 AM IST
Drama on Salman Khan's Weekend Ka Vaar continued unabated on Sunday too. The process of eviction from the Bigg Boss 12 house did not stop after the exit of Kriti Verma and Roshmi Banik. Sunday also saw a double eviction but with a twist--Nirmal Singh and Romil Chaudhary got evicted from the house but in a surprise move Bigg Boss allowed one of them to re-enter the house. Nirmal opted out, letting Romil stay.Earlier in the episode, Salman introduced a new task for the contestants and instructed S Sreesanth and Dipika Kakar Ibrahim to go into the store and fetch whatever was inside (which was basically a tray full of cup cakes and catapults). The contestants were handed over a pair of glasses and catapults. Salman then asked everyone to wear the glasses and catapults. The game involved aiming and hitting a contestant with the said cup cakes. The contestants had to guess who could have said a given statement, made by one of them about the other, which Salman repeated during the course of the game. About Dipika, Salman said someone had said that he/she found Dipika very boring as she spends too much time in the kitchen. Bigg Boss 12 saw the entry of popular TV star Karan Patel as a guest. He played a game with all the contestants where all of them were expected to donate one quality to one of their co-contestants. He called Neha Pendse and asked to donate a quality. She chose to donate mental strength to Sreesanth. It did not go down well with him. He refused to cooperate. Karan then asked him to give a justification as to why he was not accepting the offer of a quality 'mental strength' from Neha. An irate Sreesanth said he believed he was 'real' which did not mean that he lacked mental strength. As Sreesanth was being difficult, Karan counter questioned him by asking how he could change someone else's point of view. Sreesanth remained obstinate as ever, insisting that it was his house and he would stick to his decision. Rebellion? Many would think so.Read the highlights from the happenings of day 14 from the Bigg Boss house here.
10:20 PM IST
Salman's parting announcement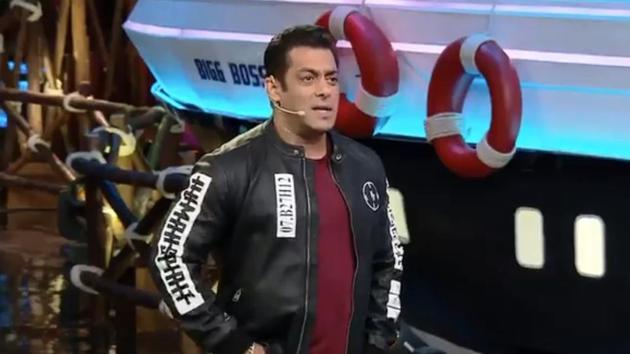 Salman says that if housemates think life will get easy after the eviction of four contestants over this weekend, then they are wrong to think so. On Monday, they should be prepared for a wild card entry.
10: 10 PM IST
Salman reveals names of two housemates evicted
Housemates are in for a surprise when Salman reveals that there will be a double eviction on Sunday too. Even before contestants have digested what he has just said, Salman says that Romil and Nirmal will leave the BB 12 house. Everyone bids them farewell and soon the duo is with Salman. That's when the Bollywood actor informs that for first time in the history of Bigg Boss, one of the two ousted housemates will be allowed to re-enter the house. Without the moment's delay, Nirmal opts out of the game and requests that Romil be sent in. Salman appreciates the gesture.
10:00 PM IST
Dipika wins Sultani Akhada
While Verbal Dangal is won by Jasleen but in the final round, lightweight Dipika beats Jasleen to win the match.
'Sultani Akhade' ki winner hain @ms_dipika! #BB12 #BiggBoss12 #WeekendKaVaar @BigMusclesNutri

— COLORS (@ColorsTV) September 30, 2018
.
1st round jeeta #JasleenMatharu ne! It's time for the second round. Dekhiye kaun padega kispar bhari. #BB12 #BiggBoss12 #WeekendKaVaar

— COLORS (@ColorsTV) September 30, 2018
9:50 PM IST
Sultani Akhara with Dipika and Jasleen
Surprised? Salman picks Dipika and Jasleen Matharu to fight it out in the wrestling pit. There are two parts to it: Verbal Dangal and Physical Dangal.
9: 40 PM IST
Loveyatri's Aayush and Warina visit Bigg Boss 12 house
Loveyatri team of Aayush Sharma and Warina Hussain visit Salman on Bigg Boss 12 to promote their film. Salman asks about the film's story to Aayush. They then play a game with Salman -- they ask him questions and for every correct answer, Salman is gifted a puppy. After a point, Salman's lap is full of puppies.
Prem se mile @BeingSalmanKhan ko chaar puppies! #BB12 #BiggBoss12 #WeekendKaVaar pic.twitter.com/eJmV0U9pge

— COLORS (@ColorsTV) September 30, 2018
.
9: 30 PM IST
Sreesanth is really upset
After Sreesanth walks off in a huff, housemates discuss his temper issues. Nehha and Srishty try to understand his behaviour. Jasleen feels one has to babysit him.
9: 15 PM IST
Special guest Karan Patel visits BB12 house
Everyone welcomes Karan, who plays a game -- each contestant has to donate a quality to a fellow contestant. Nehha Pendse opts to donate her mental strength to Sreesanth, who is obviously not amused. He acts difficult and refuses to take it. As Karan makes him understand, he gets even more rigid. Sreesanth counters by saying that he is real and in being so he is not mentally weak. Earlier, Dipika donated the quality of diplomacy to Nehha while Deepak donated quality of being 'daring' to Anup Jalota.
9: 06 PM IST
Salman introduces new task
As contestants gather to meet Salman, he introduces them to a new game -- he picks a housemate, reads out a statement made by a fellow housemate about him/her and the said contestant has to guess the other person's name. He/she has to make a guess, then has to smash a cupcake on their face with the help of a catapult. Salman chooses Dipika first, who makes a guess each about two housemates -- Romil Choudhary who said she is always in the kitchen. The other one is Saba Khan. Similarly, Deepak Thakur targets Anup Jalota, while Srishty Rode goes for Deepika. Meanwhile, Sreesanth smashes a cupcake on Romil.
.@ms_dipika ne maara #RomilChoudhary ke chehre par cupcake, dekhiye #BB12 mein ab kya hoga aage. #BiggBoss12 #WeekendKaVaar

— COLORS (@ColorsTV) September 30, 2018
.
9:02 PM IST
Salman Khan welcomes all to Weekend Ka Vaar
The new episode of Weekend Ka Vaar opens with Salman Khan giving gym tips to his brother in law Aayush Sharma in his chalet.