Crazy Ex-Girlfriend has a natural connection to Bollywood: Rachel Bloom
Apr 27, 2016 12:05 PM IST
Golden Globe winning actor Rachel Bloom has never been to India but is not oblivious to Indian culture. The Crazy Ex-Girlfriend actor calls it a vast cauldron.
She has never been to India but is not oblivious to Indian culture as she calls it a vast cauldron. Golden Globe-winning actor Rachel Bloom points out that many facets of the country are entering foreign shores in a "trendy" but false manner. People in the West are "not really getting into the heart of what it is in India", she added.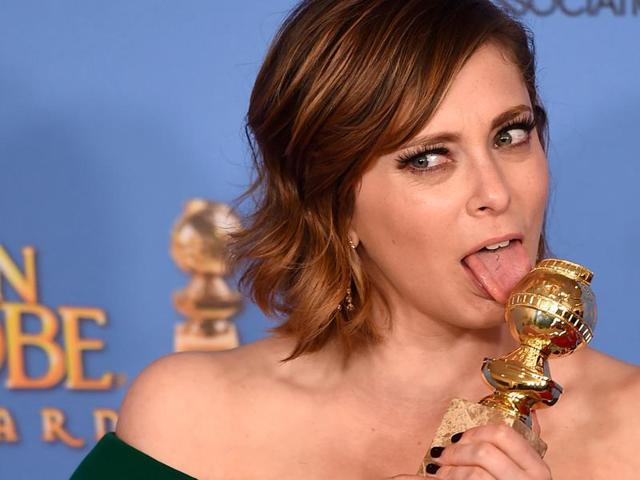 Asked about what all Bloom, who won the Best Actress in a TV Series - Comedy for Crazy Ex-Girlfriend- earlier this year, has heard about Indian culture, she said: "It's too vast".
Watch a trailer for Crazy Ex-Girlfriend here
"But I think that there is something that Americans do, you know you take the example of yoga. I know that in India it's much more kind of humble and a sacred practice, but here it's kind of commoditised," Bloom told IANS on the phone from Los Angeles.
She added: "We sell fancy clothes to wear to yoga classes for $20 or $30 or $40... it is kind of like a rich elitist thing and I know that that isn't the case in India. It's like we have taken some things that are sacred and humble in India and we've made them trendy here in ways that are false and not really getting into the heart of what it is in India."
Bloom, apart from being the lead star of Crazy Ex-Girlfriend, has also created the musical-comedy-drama series along with Aline Brosh McKenna.
The show, which has been renewed for its second season, has entered the Indian shores with season one. It is being aired in India on Star World and Star World HD.
Bloom, who rose to fame in the virtual world with her musical and comedic skills via YouTube videos, says she is "aware" about the world of Bollywood, which is oft known for painting the big screen canvas with myriad hues of feelings along with music and dance.
Watch one of Rachel Bloom's YouTube videos here
Bloom said: "I love Bollywood. First of all, our editor of Crazy Ex-Girlfriend, he is an Indian and his whole family actually is in India and works in Bollywood. And so, we have a very natural Bollywood tie at Crazy Ex-Girlfriend with our editor Kabir Aktar. And secondly, I think it's wonderful because in America the art of a film musical has really softened up.
"In the second episode, we have a Bollywood number. The Bollywood number is sung by a yoga teacher, it's kind of making fun of Americans and what they think Indian culture is as opposed to what Indian culture actually is. So we're doing homage to Bollywood and making fun of Americans through all the ways they represent Indian culture in the second episode."
The show narrates story of a successful New York lawyer Rebecca Bunch, who decides to follow her ex-boyfriend, Josh Chan, to suburban West Covina, California. It accounts her romantic rendezvous in a hilarious manner interwoven with the use of music.
The actor says she has "always thought music is one of the first and most efficient forms of storytelling there is".
She said: "Because, every song has an essential statement, which is the chorus. Every song has a very specific idea it's trying to get across and then build on around idea. It is a very clear form of storytelling. It also gives us an insight into characters' emotional space and is probably better than dialogues, since you know all the words aren't there when you are emotional, you sing."
Bloom also confessed that "Aline wanted to do this movie called Crazy Ex-Girlfriend and incidentally ended up writing a TV show".
Read: Golden Globes 2016: Complete list of winners
Ask her about the USP of the show, she says it can't "really be compared to the other shows" as "there is so much good television out there. I am personally overwhelmed with what to watch" and "it's getting harder and harder to compare television shows because we're into major television here with all these different networks, shows are getting more and more specific".
Follow @htshowbiz for more