How the late Priya Tendulkar took the nation by storm in Rajani
Writer, actor and director Karan Razdan talks about the 1985 show, Rajani, which turned late Priya Tendulkar into a household name.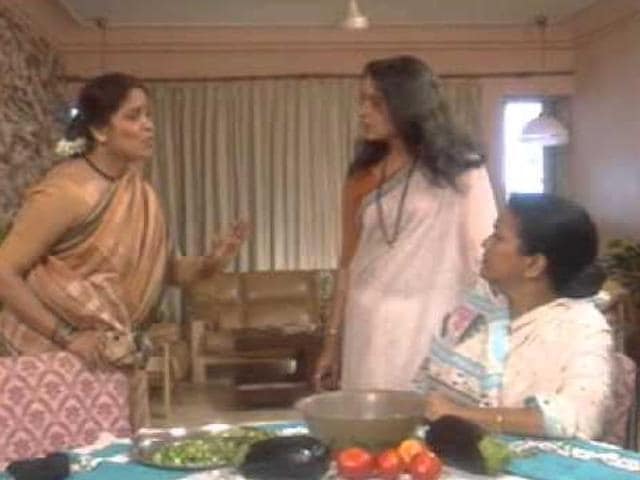 Updated on Jan 21, 2016 09:11 PM IST
After directing movies like Rajnigandha (1974) and Chhoti Si Baat (1975), among others, director Basu Chatterjee turned his attention to television. He wanted to create the character of a housewife, who barges into various situations and helps people solve their problems. The result was a show called Rajani. "Basu da wanted to make a comedy on the lines of I Love Lucy (American sitcom)," says Karan Razdan, writer of the show. He adds, "We tackled several topics, like the troubles people faced while dealing with taxi drivers, school admissions, telephone lines being dead for a month, etc. Because of that, the show got a new direction, and it affected more than one generation of women. It made Priya Tendulkar (who played Rajani) a household name, and a national heroine."
Singer Asha Bhosle sung the popular title song, which became a rage among the audience. Karan feels that the success of the show was a "matter of chance". But it was Chatterjee's vision, as a maker of realistic cinema, that "triggered unimaginable reactions and made Rajani so popular".
Watch the first episode of the show here
The show faced opposition as well. For instance, taxi drivers marched into Doordarshan's office, demanding an apology as the serial had portrayed them in bad light. "They kept saying 'Basu Bhattacharya murdabad'. Basu da was just amused that they had targeted the wrong person. We laughed about it," recalls Karan.
After the completion of 13 episodes, the team was felicitated at an event in Churchgate that ended in a stampede. Karan regrets the fact that despite such success, the show didn't complete even a year on air. "It was sad that the government got a bit jittery. After 42 weeks, we were asked to stop [production]."
Interestingly, not many know that Padmini Kolhapure had shot for the pilot initially. But, by the time it got approved by Doordarshan, she was already a star, and didn't have the dates for the show. Chatterjee, who now had three choices for the lead role, consulted Karan about who to pick between Anita Raaj, Bindiya Goswami and Priya. "Though I had not met her, I thought Priya would suit the role. Being playwright Vijay Tendulkar's daughter, I thought her sensibilities would be right for the character," says Karan. Chatterjee then convinced Karan to play the husband on the show. Karan says, "Priya contributed a big part of her own self to the character.
Watch the second episode here (featuring a special appearance by a young Shah Rukh Khan)
She was brought up in a progressive atmosphere, where social issues were a big part of her upbringing. Priya was essentially a newcomer as she hadn't acted much before the show. She loved the concept of playing a character that was modelled on Lucy, but other than that, she didn't know what she was in for. Nonetheless, she always delivered, as she was a natural actress."
The series also brought Priya and Karan together. "She was busy falling in love with me during that phase," says Karan, adding, "After 26 episodes, when her contract came up for renewal, she wanted a pay hike. But Basu da refused to give her more than a certain amount. The show was almost coming to an end back then, but Priya was thinking about how she could continue meeting and spending more time with me. So, she told her manager to take whatever Basu da was offering. The show brought the two of us together, and we got married later."
Follow @htshowbiz for more
Close Story
Personalise your news feed. Follow trending topics