Karanvir Bohra's wife Teejay Sidhu writes open letter to Bigg Boss for mistreating him on the show
Karanvir Bohra's wife is upset over how her husband is being treated on the show. She wrote an open letter to Bigg Boss to clarify why he is being subjected to unfair treatment in the house.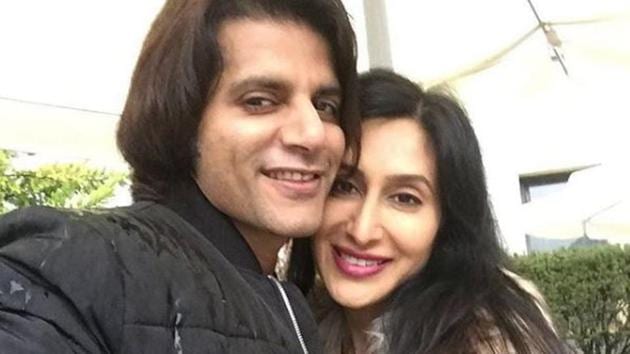 Updated on Nov 13, 2018 07:14 PM IST
Bigg Boss 12 contestant Karanvir Bohra's wife Teejay Sidhu is upset over how her husband is being treated on the show. Teejay has shared a letter addressed to the reality show's team, asking them why Karanvir is being subjected to double standards and frequent insults.
"Respected Bigg Boss team.. I saw the Sunday Weekend ka War and wanted to share some thoughts with you. First of all, I don't know if myself or KV have upset you guys in any way. but if we have, I sincerely apologize. It seems you are upset with KV about something, but we don't know what. Every weekend, KV is ridiculed and it is hard to see him being demoralized like this. At first, I just thought it was harmless leg-pulling, and even defended the same But after last night's episode. there seems to be something more to it," she wrote in her letter.
"KT was told he had no 'Fizz', that he probably never did, and wouldn't even after BB. He is a celebrated actor who has done only hit shows—Kasauti Zindagi Kay- India's number one show. 'Saubhan'avatiBhava: Life OK's number one show, and recently, Naagin2 on this very channel: another number one show. He is a highly respected, award-winning actor and a fine human being. Please appreciate the years of hard work it has taken to earn this respect," she added.
She then recounted how he is being subjected to double standards on the show. "When people made fun of Rohit's purple shorts, they were questioned about it. Whatever KV wears on WKW, he is always ridiculed. Whether it's his hair, his clothes, his look. It's wrong to shame someone for the way they look, or how they dress," she said.
"Since the first day, he has respected the format of the show. Unlike others, he has not tried to leave. He has not spoken against Bigg Boss or the channel. He has not used any abusive language, he has given his best in every task and whenever be is wrong, he has apologized. With utmost dignity he has handled everything. I can understand some joking around can happen but this is a bit much. Please remember KV is a father of two little girls. He is someone's son and someone's husband. His entertainment fraternity is also deeply upset about all this. Please understand I am venting out of concern, and with the utmost respect. I would be very grateful to get some clarity on this. I have many people to answer to. Please tell me what I should say," she added.
Several of Karanvir's television colleagues have also criticised the show's host Salman Khan for being mean towards Karanvir. "Why is @KVBohra targeted for everything .. poor guy gets questioned for the tiniest things and is ridiculed," wrote actor Nigar Khan. Actor Simple Kaul also tweeted in his support. "We are with you @bombaysunshine @KVBohra . So beautifully and honestly expressed," she wrote in her tweet.
Karanvir's fans also believe he is being treated unfairly in the house but last year's winner Shilpa Shinde doesn't think Salman is being rude to him. "SK oh!!! SALMAN KHAN has 'personal' issues with kv !! LOL Everyone saw how he goofed up in Akhada. Woh hamesha apne oversmatness ke wajeh se mooh ke bal gira hain.. Everytime holding host responsible isn't right.There is a kahavat in Marathi 'Ati shahana tyacha bail reekama'," she wrote in a tweet.
Karanvir was selected as the captain of the house on Monday's episode but broke down in tears when others made fun of him, calling him incompetent for the job.
Follow @htshowbiz for more
Close Story
Personalise your news feed. Follow trending topics