Rubina Dilaik on her organic wedding card: Lavish doesn't mean mindless use of things that serve no purpose
Actors Rubina Dilaik and Abhinav Shukla have known each other for four and a half years and the two are getting married on June 21, at a palace in Shimla.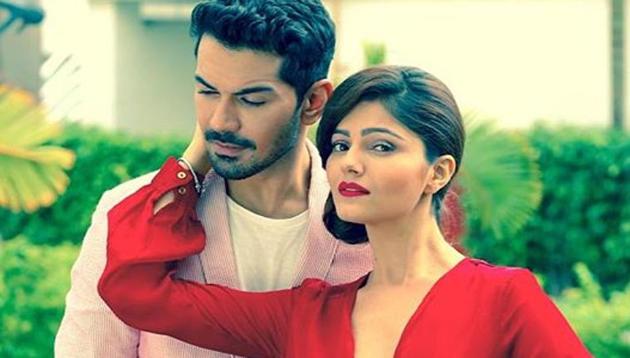 Updated on Jun 16, 2018 04:24 PM IST
Hindustan Times |
, New Delhi
Monika Rawal Kukreja
Having known each for over four and a half years now, actors Rubina Dilaik and Abhinav Shukla are set to tie the knot on June 21 in a palace in Shimla. Super excited about their D-Day, the couple admits it's difficult to juggle being a part of a daily soap and take out time for wedding preparations, yet they are ensuring to "make the journey worth the experience". In a freewheeling chat, Rubina talks about the preps, the idea behind keeping it all low key, the additional vows and their eco-friendly wedding card that's creating a lot of buzz.
At what point in your relationship you decided that this is the right time for marriage?
Before we dated, we worked together in my first show, 10 years ago, but then we didn't know each other very well, we only knew of each other. And the decision of taking our relationship to marriage wasn't based on a right or a wrong time. We just thought that we want to get married and we made things happen for us.
What was the idea behind your organic wedding card with a spaling? Did you take a cue from Virat Kohli and Anushka Sharma's card?
No, we didn't know that Virat - Anushka also had this theme for their wedding invitation; it's just a coincidence. But I'm so happy that we are evolving as a generation and becoming so responsible towards our environment. The idea was to do something meaningful and eco-friendly, as lavishness is not necessarily defined by mindless use of things that just look beautiful and serve no purpose. Also, we wanted to gift friends a token of appreciation and thank them by giving them a life. It's in the form of a plant or sapling and we named it 'let the love grow'. Through this invitation, we are sharing a piece of our contentment, happiness and joy.
+ +
Was it too much of an effort to prepare all these invitations on your own?
Abhinav really believes in doing things on our own like DIY [Do it yourself], as they have a personal touch to it. Everyone can spend a lot of money but spending a lot of energy and effort behind really takes a lot of courage and commitment. And my friend, Keerti Kelkar (actor) helped me a lot in putting thing together and giving it a beautiful look.
Though you're getting married in a Palace, but you seem to be keeping it quite private. Why is that?
We always wanted to have a low key wedding because for us, it's celebrating each other's presence with our loved ones only. Also, having it in a palace is not the idea for an extravagant affair because Raj Kumar Uday Singh offered my father that he'd love to host our wedding in his palace and hence the idea came forth. Also, Abhinav wished to have a wedding in the mountains or a forest and this palace is lavishly spread in a forest with trees around, so it came up like a perfect setting.
+ +
Do you plan to share a lot of videos and photos from your wedding ceremonies, on social media?
Our wedding, especially the rituals we're doing with friends and family, that's absolutely a personal and a private affair and we love to keep it that way. We are not looking at publicising or putting them on social media and make it a public affair.
Besides the seven traditional vows, you also plan to exchange seven more vows. Can too many promises kill the excitement?
These vows are not to bind or weigh down each other with promises or responsibilities. They are a commitment or reminder to self to be in each other's life, creating value, co creating memories and being each other's strength. And nothing that we commit to ourselves burdens our partner.
Who all from TV industry are invited?
I've got my entire gang joining me for my big day in my bridesmaid tribe. Keerti will be the maid of honour and then my friends, Surveen Chawla, Tina Kuwajerwala, Ghazala Shaikh, Kamya Punjabi, Meghna Malik, Srishty Rode, Benaf Dadachandji will be there too.
Interact with Monika Rawal Kukreja at Twitter/@monikarawal
Close Story