Surekha Sikri had no idea that her role as Dadi sa 'would become so big'
Says veteran actor Surekha Sikri about her iconic character Dadisa on a popular show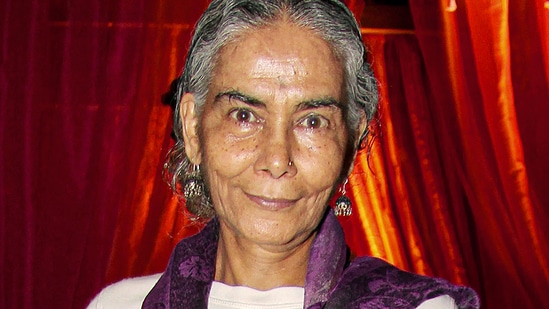 Updated on Jul 16, 2021 07:54 PM IST
Keeping a character alive for five years isn't an easy task. And 68-year-old Surekha Sikri, who plays the iconic character of Dadisa in Balika Vadhu, feels that the popularity she has received is a result of the combined effect of other roles she has played in her past. Having won the National Film Award for Best Supporting Actress — twice (for Tamas (1988) and mammo (1995), she still wants to better herself as an actor. In this chat, the soft spoken and spiritual actor talks about her stint at playing TV's most memorable grandmom.
Do you agree that the success and popularity of the role of Dadisa has surpassed your earlier memorable roles?
I was surprised myself that this character clicked with people. The process of acting is a continuous learning experience. An actor never arrives; so one can't say that. What I could do five years earlier, I can do better now. My growth as an actor reflects in my work. I have tried to give the character many shades; she is not a cardboard character. Dadisa is not boring.
Your character has seen a massive change — from that of a strict matriarch to a broad-minded grandmother.
Is such a transformation actually possible for a real person?
It's possible in real life, but it might take longer. Changes can happen. Many old people are rigid but there's always scope; it depends on one's attitude. Dadisa changed over the years due to Anandi's influence and her own experiences in life. She is still superstitious, but not to a large extent.
What kinds of reactions do you get for you acting?
Earlier, kids would run away from me but now they rush to meet me. People tell me I remind them of their grandmom (laughs). I feel touched and delighted by that.
When you took on the show, did you know that Dadisa would become a central character?
I had no idea that it would become so big. It was supposed to be a negative character but not a stereotypical one. It went on to become popular as it was a contrast to the little Anandi; people liked that.
Quick five
Tell us something that people do not know about you.
I am a mixture of a serious and a fun-loving person.
A question you don't ever want to answer?
People always ask me where am I from. Since I come from various places, I never answer that. They try to gauge my religion and caste but I don't go with all that.
What do you like doing in your free time?
I love to read. I like my solitude but also like spending time with friends. I like to cook now and then, when I have the time.
What is the best and worst part of your job?
The best part of this job is that every day is a different day. There is no routine and one learns so much about human behaviour while acting. The worst part is that you have no time for yourself.
A disturbing trend on TV, according to you?
Every show is one dimensional; there's no depth. It's a herd mentality. The scripts should be better. Everyone copies
everyone else, which has become the safest thing to do.
Close Story
Personalise your news feed. Follow trending topics