Budget 2017: Here's what Arun Jaitley can do to boost real estate
As Arun Jaitley prepares to present his third budget the key focus is likely to be on affordable housing, Pradhan Mantri Awas Yojana and tax breaks to boost real estate sales.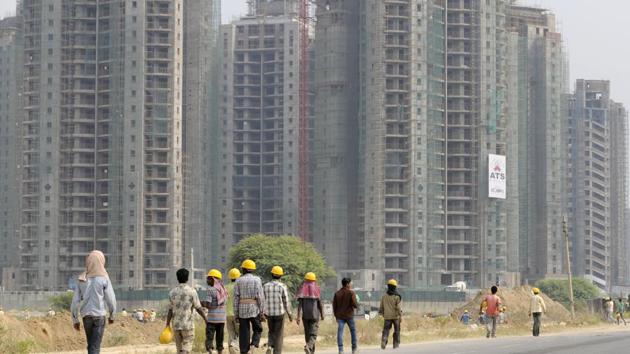 Updated on Jan 23, 2017 08:22 PM IST
The government's budget announcements and reform initiatives over the last three years have largely been directed at giving a push to affordable housing, encouraging first-time homebuyers to invest in property and cleansing the sector of black money, issues that were part of its manifesto. This year's budget proposals too are expected to be centred around these issues to improve sentiments and boost sales in a sector vastly impacted by November's demonetisation move.
Stakeholders in the real estate sector have proposed a wish list asking for more clarity on classification of beneficiaries eligible for housing loans with interest subsidies under the Pradhan Mantri Awas Yojana (PMAY). They also want tax deduction limit for housing loans to be increased, especially for metropolitan cities. The current limit of Rs 2 lakh is insignificant given the ticket sizes in cities, they say. More clarity has also been sought in the GST (goods and services tax) structure announced last year.
Affordable housing
Over the last three years, over Rs 6,000 crore was sanctioned and Rs 3,570 crore released for the Housing For All scheme. Additional tax benefits for first-time homebuyers and tax breaks for developers undertaking affordable housing projects were also announced. Infrastructure status was accorded to the affordable housing segment in the Budget 2014-15 that enabled borrowing at a lower cost for stakeholders.
An increase in the limit of individual loans for affordable housing from Rs 25 lakh to Rs 65 lakh (in metropolitan cities) and Rs 50 lakh (in other cities) made Housing For All a possibility and ensured increase in housing demand. Though the housing target seems daunting, a start has been made and that is impressive, say experts.
"The stated objective of nearly 20 million urban homes by 2022 appears likely to be missed given the slow progress at present," says Ramesh Nair, COO – business and international director, JLL India, a real estate consultancy. Interest rates of 3% on loans of up to Rs 12 lakh and 4% on loans of up to Rs 9 lakh announced under the PMAY were announced recently too. Following the announcement, two new income categories can now avail higher loans with interest subsidies. "Budget 2017 is expected to give more clarity on the actual definition of beneficiaries who can avail of these benefits," says Nair.
PMAY was launched in June 2015. In the 2016-17 Budget, to promote activity in the housing sector, finance minister Arun Jaitley proposed 100% deduction for profits made by an undertaking from a housing project for flats measuring up to 30 sq m in the four metros and 60 sq m in other cities, approved during June 2016 to March 2019. These units should be completed within three years of the approval, explains Amarpal Chadha, tax partner and India Mobility Leader, EY India.
Given the Government's commitment for Housing for All by 2022, it was proposed in the 2014-15 budget that projects committing at least 30% of the total project cost for low-cost affordable housing would be exempt from minimum built-up area and capitalisation requirements, with the condition of a three year lock-in. An additional tax incentive on home loans was also extended to encourage people, especially the young, to own houses. There was also a proposal to include slum development in the list of Corporate Social Responsibility (CSR) activities to encourage the private sector to contribute more towards this activity.
"In view of the Government's continuous measures to promote this scheme, one could expect more benefits in the upcoming budget in the real estate sector," says Chadha.
A push for first-time home buyers
The real estate sector has seen a big hit post demonetisation, hence providing higher tax breaks to individuals for home loans could boost demand in the housing sector. Hence, enhancement in the current limits for tax concessions on home loans could be expected in Budget 2017.
"To encourage home buyers to invest in real estate, reduced interest rates by banks are not enough. The government should increase the interest limit offered to those taking a home loan and reduce the income tax rate. Offered as a package, these incentives, if announced in the Budget will put more money in the tax payer's hands and boost spending in real estate," says Amit Oberoi, national director, Knowledge Systems at Colliers International India.
From a tax perspective, higher deduction of principal paid towards housing loan (currently Rs 2 lakh) should be allowed. Tax deduction of interest paid on housing loan for self-occupied property should be increased to Rs 5 lakh (from Rs 2 lakh). Tax deduction of interest paid on housing loan for self-occupied property should be increased to Rs 5 lakh (from Rs 2 lakh), says Maadhav Poddar, tax partner, real estate practice, EY India.
Curbs on black money
Black money was targeted too in Budget 2015-16 with heavy penalties announced for property transactions in cash. Acceptance or repayment of advance in cash of Rs 20,000 or more for immoveable property transactions was disallowed. A penalty was also imposed for contravention of such provisions. PAN number was also made mandatory for any purchase or sale exceeding Rs 1 lakh to curb black money transactions.
The Benami Transactions Bill (to check black money flowing into real estate) was notified on Aug 25, 2016. The stringent Prohibition of Benami Property Transactions Act (PBPT Act) came into effect in November 2016, indicating how serious the government was to curb transactions bought by owners who did not disclose their names. The government is now planning to go after benami transactions in real estate. These developments are expected to deter those with black money from undertaking such transactions in the future too.
"After demonetisation, cash-based transactions have declined and acceptance of full payment in white has gone up. Reputed developers and most of those operating in the bigger metros such as Mumbai were anyway accepting full payment in white. Now, those accepting cash payments, especially in tier-II, III cities are also expected to fall in line," adds Nair.
In last year's budget, the finance minister, going with the government's digital-first agenda, allocated Rs 150 crore for land records digitisation. This was done to increase transparency in the system and expedite the process of land acquisition.
In view of the government's increased focus and commitment to curb black money from the economy, one could expect certain new provisions in this year's budget as well, adds Chadha.
Close Story