2017 Nobel Prize in Physics awarded to Rainer Weiss, Barry Barish, Kip Thorne
Updated on Oct 03, 2017 04:15 PM IST
The prize was announced on Tuesday by Sweden's Royal Academy of Sciences.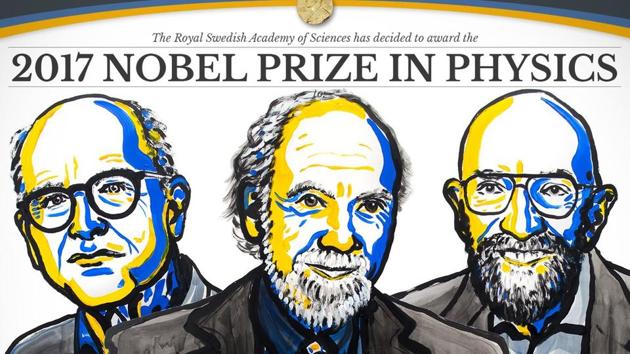 The 2017 Nobel Prize in Physics was on Tuesday awarded to Rainer Weiss, Barry C Barish and Kip S Thorne "for decisive contributions to the LIGO detector and the observation of gravitational waves".
The prize announced by Sweden's Royal Academy of Sciences comes with 9 million kronor ($1.1 million). For the past 25 years, the prize has been shared among multiple winners.
"This is something completely new and different, opening up unseen worlds," the Royal Swedish Academy of Sciences said in a statement on the awarding. "A wealth of discoveries awaits those who succeed in capturing the waves and interpreting their message."
The universe's gravitational waves, predicted by Albert Einstein 100 years ago, were observed for the first time on September 14, 2015.
The 2016 Nobel Prize in Physics went to three British-born researchers who applied the mathematical discipline of topology to help understand the workings of exotic matter such as superconductors and superfluids. In 2014, a Japanese and a Canadian shared the physics prize for studies that proved that the elementary particles called neutrinos have mass.
This year's Nobel medicine prize went to three Americans studying circadian rhythms — better known as body clocks: Jeffrey C. Hall, Michael Rosbash and Michael W. Young. The prize was announced on Monday.
(With agency inputs)
Close Story
Personalise your news feed. Follow trending topics