'Afghanistan won't be a democracy because...': Taliban leader on how the country will be governed
The Taliban are asking Afghan pilots and soldiers to join their army which will be revamped as a new national force as the Taliban take over the country.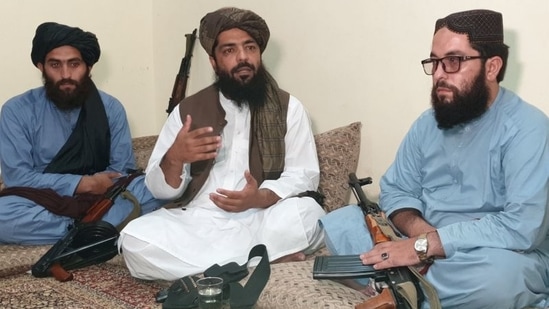 Published on Aug 19, 2021 06:44 AM IST
A senior member of the Taliban, Waheedullah Hashimi, told news agency Reuters that the group is still finalising how they will govern the country. As the group is planning governance like that of its earlier regime, the member explained that there will be no democratic system at all because it does not have any base in the country. "We will not discuss what type of political system should we apply in Afghanistan because it is clear. It is sharia law and that is it," Hashimi told Reuters.
A council will oversee the day-to-day running of the country
As Hashimi said, a council will govern the country overseeing the day-to-day activity while the supreme leader of the Taliban, Haibatullah Akhundzada, is likely to remain the overall in-charge. This is how the Taliban had ruled Afghanistan from 1996 to 2001. At that time, supreme leader Mullah Omar remained in the shadows and everyday governance was the responsibility of the council.
Also Read | 'No secrecy anymore': Taliban say world will soon see all their leaders
Who will be the president?
Abdul Ghani Baradar, who is one of the founding members of the group, is likely to be the president of the Taliban rule in Afghanistan. But Hashimi said any of the three deputies of Haibatullah Akhundzada might play the role of president. Apart from Baradar, the other deputies are Mawlavi Yaqoob, son of Mullah Omar who founded the Taliban and Sirajuddin Haqqani, a leader of the powerful militant Haqqani network.
Taliban do not have pilots
The Taliban are planning to recruit pilots who worked for the Afghan government as the group does not have pilots. After the foreign troops withdrew, the Taliban seized helicopters and aircraft and now are in contact with many pilots to join their force. "And we have asked them to come and join, join their brothers, their government. We called many of them and are in search of (others') numbers to call them and invite them to their jobs," Hashimi said.
New national force
Apart from the air force, the Taliban are planning to set up a new national force including their members and Afghan soldiers. "Most of them have got training in Turkey and Germany and England. So we will talk to them to get back to their positions. Of course, we will have some changes, to have some reforms in the army, but still, we need them and will call them to join us," Hashimi said to Reuters.
Topics
Close Story