Alliance of subversion on university campuses, says Arun Jaitley
Feb 25, 2017 09:14 PM IST
Finance minister Arun Jaitley has spoken of an "alliance of subversion" on varsity campuses whereby separatists and ultra-left elements are speaking the same language.
Finance minister Arun Jaitley on Saturday saw "an alliance of subversion" on university campuses, whereby separatists and ultra-left elements were speaking the same language , and said the idea of free speech could not extend to assaulting India's sovereignty.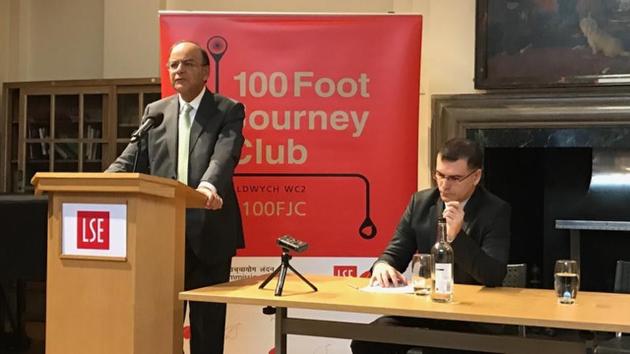 Answering a question at the London School of Economics on the turmoil in Delhi's Ramjas College, Jaitley said there was "no space for violence", but there should be a debate whether assaulting the country's sovereignty should be permitted under the idea of free speech.
Stay tuned with breaking news on HT Channel on Facebook.
Join Now
On a four-day visit to London, mainly to represent the nation at a reception at Buckingham Palace on Monday to mark the UK-India Year of Culture, Jaitley spoke on historical and contemporary developments in India's economy and said the country is now clear about the path ahead.
Referring to the incidents at Ramjas College, he said: "I don't think there is or could be any space for violence. I personally believe this whole issue has to be debated, whether free speech permits you to assault the very sovereignty of the nation.
"If somebody speaks about breaking India into pieces and thinks that is part of free speech – don't forget under Article 19 (2) sovereignty is an exception to free speech – but assuming you wanted that right, be liberal enough to believe that within the democratic framework a large majority will stand up to you and counter your free speech."
In a response that was met with applause from students in the audience, he added, "Then don't say that my free speech is being hindered. I find it strange that an argument is being raised that I have free speech to advocate that India should be broken into pieces but those who oppose me are hindering my free speech. They also have a right of free speech to oppose what you are saying."
According to Jaitley, there is "an alliance of subversion" taking place in India, with separatists and the ultra-left speaking the same language on certain university campuses. They must be willing to allow other figures to put the counter viewpoint, he said.
Answering a question on banks and loan defaults, and without naming London-based businessman Vijay Mallya, who is wanted in India in connection with alleged economic offences, Jaitley said: "There is a series of steps which we have taken about money stashed abroad – from legislation to an opportunity to declare to cooperate with G20 countries to a recent understanding with Switzerland – these are all steps which have to be taken in parallel.
"Just as the earlier normal was to transact in cash and evade taxes, many thought that when you take advances from banks the monies need not be repaid. If you don't repay them, you come back to London and settle down here. Democracy is liberal enough to permit defaulters to stay here (laughter). That normal needs to be cracked."
Jaitley said that strong action is being taken by India for the first time. "It has never happened that the defaulters are on the run. The fact that they are on the run and their properties are being attached to the last penny, is a signal which India is sending for the first time. Otherwise we had learnt to live with defaulters."
According to Jaitley, the demonetisation drive was the "smoothest possible replacement" of high denomination currency notes anywhere in the world. The process, he said, is almost complete, and the new GST regime will lead to a bigger GDP in the long run.
The Indian economy, Jaitley said, is now comfortably placed, despite all the challenges, to grow at a reasonable pace. India had become impatient, he said, with a large middle class and a larger section below it that is aspirational.
"Today there is huge public support for economic reform. There is competitive federalism in which states are vying to attract investment, some states want to grow faster than the national average. Decision-making is now more effective, discretion of the state is being reduced and corruption is frowned upon," he said.
The event, titled Transforming India: A Vision for the Next Decade, was organised by the 100 Foot Journey Club, an initiative of the LSE South Asia Centre and the Indian high commission. It is so named because of the 100-foot physical distance between the two in Aldwych, central London.