Bangladesh seeks apology from Pakistan for 'misleading' Facebook post
The video posted on the Pakistani mission's Facebook page purportedly said that Bangladeshi military ruler Ziaur Rahman, and not Sheikh Mujibur Rahman, had declared the country's independence.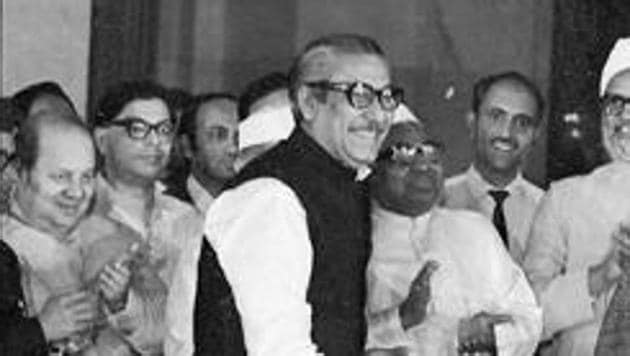 Updated on Nov 01, 2017 05:24 PM IST
Dhaka |
Press Trust of India
Bangladesh has demanded an apology from Pakistan after its envoy in Dhaka posted a "misleading" video claiming that the country's founder Sheikh Mujibur Rahman was not the one who declared its independence in 1971.
The nearly 14-minute video was initially posted on a Facebook page called Pakistan Affairs. It said Bangladesh's military ruler and subsequent president "Ziaur Rahman, not Sheikh Mujibur Rahman, announced Bangladesh's independence".
The Pakistani mission in Dhaka shared the video on its Facebook page, sparking a controversy that prompted it to remove the post.
The secretary (bilateral) in Bangladesh's foreign ministry, Kamrul Ahsan, summoned Pakistani high commissioner Rafiuzzaman Siddiqui on Tuesday and handed him a "strongly worded protest note" warning that repeated breaches of diplomatic norms by Pakistan would only harm bilateral relations, a Foreign Office statement said.
"The Government of Bangladesh seeks a formal note of apology for this ill-motivated and misleading video post and calls for an immediate withdrawal of the footage from the Facebook page reportedly maintained by the Pakistan high commission in Dhaka," it said.
The statement said Ahsan told the envoy that Dhaka deeply regretted that notwithstanding Bangladesh's repeated overtures, "the malicious campaign by Pakistan and its various agencies against Bangladesh has not come to a halt".
Ahsan said the Pakistani envoy "apologised", saying the incident was "unintentional".
"We told him (the envoy) that if this continues, it will harm relations between the two countries. History is history. One cannot divert it by spreading propaganda," the Bangladeshi official said.
The diplomatic protest note said the message conveyed in the video, that it was not Mujibur Rahman who declared the independence of Bangladesh, "is a blatant lie and sheer fabrication of historical facts".
"Nothing can be farthest from the truth than claiming that the architect of independent Bangladesh and Father of the Nation Bangabandhu Sheikh Mujibur Rahman did not want Bangladesh's independence or that Bangladesh's independence was declared by anybody other than the great leader himself," the note said.
Bangladesh emerged as an independent nation, breaking away from Pakistan, after its victory in the 1971 liberation war aided by India. Bilateral relations have suffered in recent years over the 1971 war crimes trial in Bangladesh and executions of Bengali war criminals who colluded with the Pakistani troops.
A rankled Dhaka repeatedly summoned Islamabad's envoy during the past three years following protests by Pakistani leaders over the trial and executions of hardline Islamists.
Close Story
Personalise your news feed. Follow trending topics