Brexit, Trump lead to intense voter hostility: LSE study
Jan 22, 2017 11:27 PM IST
Brexit and Donald Trump's shock election wins defied the overwhelming majority of opinion polls, media predictions and stock markets
The two major political events on the world stage in 2016 – Brexit and the election of Donald Trump – have ushered in a new phenomenon: intense voter hostility towards people with opposing views, according to new research by academics at the London School of Economics and Political Science.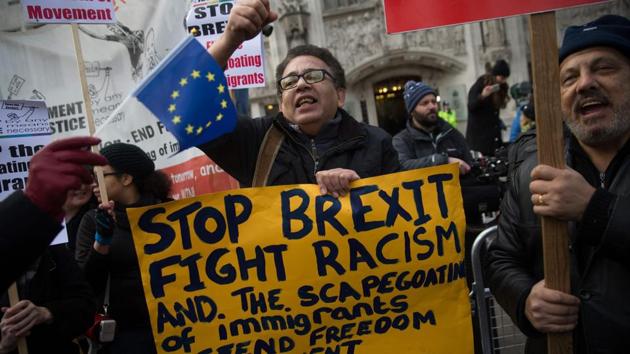 Michael Bruter and Sarah Harrison write in "Nature Human Behaviour" that both Brexit and Trump's shock election wins defied the overwhelming majority of opinion polls, media predictions and stock markets, calling into question the validity and reliability of long-held barometers of political behaviour.
The authors conducted a large study of voters in the aftermath of the EU referendum, revealing that 51% of voters surveyed said they felt anger towards people who voted differently from them and 46% even experienced "some level of disgust".
"Emotional dislike towards another electoral camp – while seemingly rare in the past – seems to have become the name of the game in 2016," the authors say in their paper, "Understanding the Emotional Act of Voting".
Their findings suggest that many people have extended their long-standing resentment towards politicians and the political system to now target their anger at fellow voters.
"This has been expressed with mass demonstrations across British and US cities, alongside demands for the electoral results to be dismissed and overturned, or new elections sought," they write.
Thirty-two per cent of those surveyed said they "felt like crying" after the Brexit vote, a figure that was even higher (46% ) among voters aged 18-24 years.
Bruter said: "We need to better understand how and why voters are so emotional. The mass media often suggests that people do not care about elections and many abstain from voting because they are not interested, but our findings contradict that. Elections are actually a time of heightened emotion for many people."
Harrison said: "Understanding the emotional context of voting is crucial because it has serious consequences for democracy. If people experience such powerful negative reactions to the result, there is a risk they will feel alienated by their political system."