British Airways chaos: Trade union insists outsourcing IT work to India to blame
Updated on Jun 03, 2017 10:05 AM IST
British Airways said the problem arose due to a "power surge" and had no link to outsourcing of IT work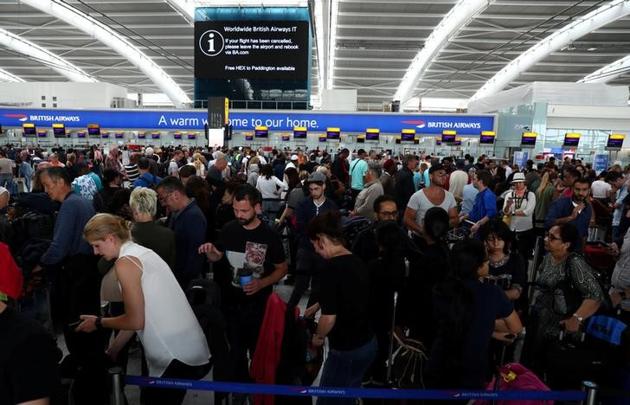 GMB, one of Britain's largest trade unions, on Thursday insisted that outsourcing IT work to India was to blame for the recent computer failure at British Airways (BA), which had resulted in large-scale cancellation of flights and had inconvenienced thousands.
According to GMB, the computer failure could have been avoided and it was another example of alleged shortcomings of BA's IT systems, since a number of staff was made redundant and work was outsourced in 2016.
GMB national officer for aviation Mick Rix said: "We can only feel genuinely sorry for the tens of thousands of passengers who are stranded at airports and face having their travel plans and holidays ruined.
"This could have all been avoided. BA in 2016 made hundreds of dedicated and loyal IT staff redundant and outsourced the work to India. BA have made substantial profits in for a number of years, and many viewed the company's actions as just plain greedy."
However, BA told Hindustan Times that the problem arose due to a "power surge" and had no link to outsourcing of IT work. The airline's flights to India were also hit, but are back to normal after the computer issue affected not only passengers but also BA's share value.
A BA spokesperson said: "There was a loss of power to the UK data centre which was compounded by the uncontrolled return of power which caused a power surge taking out our IT systems. So we know what happened we just need to find out why.
"It was not an IT failure and had nothing to do with outsourcing of IT, it was an electrical power supply which was interrupted. We are undertaking an exhaustive investigation to find out the exact circumstances and most importantly ensure that this can never happen again."
Several British banks and companies have outsourced work to India over recent years, but there have been complaints from customers about service received from some call centres in India. Some companies have reverted the outsourced work back to Britain.