China acquires strategic 40% stake in Pak stocks
A consortium led by Chinese firms has signed an agreement to acquire 40 per cent equity of Pakistan Stock Exchange for $85 million.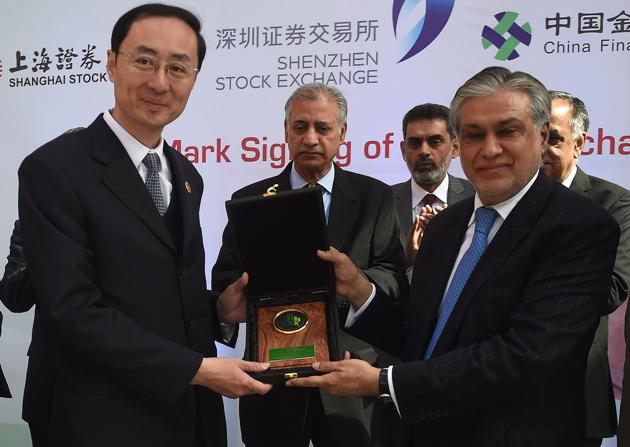 Updated on Jan 21, 2017 01:42 PM IST
A consortium led by Chinese firms has signed a strategic agreement to acquire 40 per cent equity of Pakistan Stock Exchange for $85 million, in a move aimed at mobilising funds for the $46-billion CPEC project and facilitating China's entry into the Pakistani capital market.
The Sale and Purchase Agreement (SPA) was signed on Friday in the presence of finance minister Ishaq Dar in Karachi.
The consortium comprises Chinese Financial Futures Exchange Company Ltd (lead bidders), Shanghai Stock Exchange, Shenzhen Stock Exchange, and two local partners Pak-China Investment Company and Habib Bank Ltd, Dawn reported.
It had won by placing the highest bid of Pakistani Rs 28 a share for 320 million shares at a price consideration of Rs 8.96 billion ($85 million) when the stake was put forth in December.
The PSX also plans to launch infrastructure bonds which would be predominantly be used for the $46-billion China- Pakistan Economic Corridor project, that passes through Pakistan-occupied Kashmir (PoK).
On the occasion, Dar said the government had set up a 'Pakistan Development Fund' aimed at financing the infrastructure development projects in the country.
"We would soon be coming to the Pakistan Stock Exchange (PSX) to mobilise funds," he said, adding the International Finance Corporation and others had indicated their interest in participating in the Fund.
Dar said the strategic deal with the Chinese consortium was a "dream come true" for him. Besides being the best market in Asia and fifth best among global bourses in 2016 on the basis of returns, the PSX had after the divestment graduated to 'regional market', he said.
He expressed hope that the decision by the Chinese consortium to venture into Pakistan's capital market would bring benefits to both sides.
"Divestment will result in institutional shareholding, experienced ownership and good governance for PSX which will translate into organised and robust development of the exchange," he said.
Chinese ambassador to Pakistan Sun Weidong said the occasion marked a new step in all-round cooperation between the two countries. "It is a win-win situation for both sides," the ambassador said and added that the partnership would assist in investment financing and generate credit for CPEC.
"It comes at a significant moment when we are pushing forward CPEC to deepen cooperation and sustainable development in China-Pakistan all-weather friendship."
Close Story