Chinese school uses facial technology to gauge student behaviour
A Chinese high school in the city of Hangzhou is using facial recognition technology to analyse student behaviour by monitoring their facial expressions and keep track of attendance.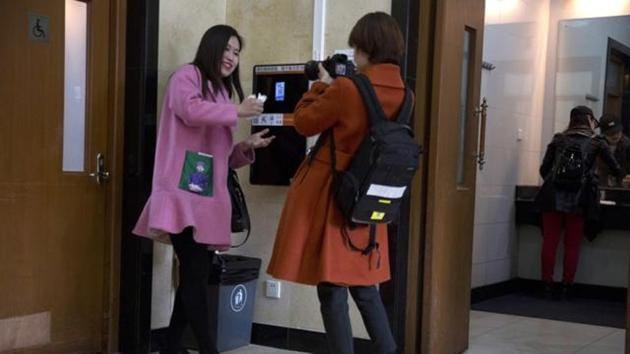 Published on May 22, 2018 04:50 PM IST
Hindustan Times, Beijing | By Sutirtho Patranobis
, Beijing
A high school in Hangzhou city in eastern China has become the latest institution in the country to use facial recognition technology (FRT) to analyse student behaviour by monitoring their facial expressions and keep track of attendance.
The "intelligent classroom behaviour management system" used at Hangzhou No. 11 High School incorporates a facial recognition camera that scans the classroom every 30 seconds and logs six types of student behaviour: reading, writing, hand raising, standing up, listening to the teacher, and leaning on the desk.
A report in state-controlled People's Daily website said the system records the "…facial expressions of the students and logs whether they look happy, upset, angry, fearful or disgusted".
How does it help?
"The information collected by system is analysed and reported to teachers so they can better supervise the performance of their students," the report says.
While the use of cameras has raised questions of privacy as they are recording minors, school authorities said the privacy of the students is protected as the images are not saved.
The efficacy or even the necessity of the system inside a classroom could be questioned but that hasn't stopped the FRT from being adopted by different kinds of organisations including universities and banks.
Last year, 44 facial scanners were installed at access points at Beijing Normal University, one of the city's top universities, in 19 dormitories where 18,000 students stay.
"It is the boldest move taken by a Chinese university so far to apply advanced digital technologies in campus management and has drawn attention from administrators at other universities," the state media had then described the move.
For the first time earlier this month, police personnel wearing facial recognition glasses were deployed at a railway station in a central China city to screen passengers during the Chinese new year (CNY) rush.
Using these hi-tech glasses, railway police personnel at the Zhengzhou east railway station in Henan province screened passengers and matched their identities with information available on the police database to weed out suspected criminals.
FRT is a rapidly expanding industry and is currently worth hundreds of millions of dollars in China.
"China's Forward-looking Industry Institute said that the facial recognition market in China surpassed 1 billion yuan (about $150 million) in 2016 and is expected to hit 5.1 billion yuan by 2021," the official news agency, Xinhua said in a report last year.
"Facial recognition technology has already been put to creative use. Beijing's Temple of Heaven has used it in toilets to deter toilet paper theft. In east China's Jinan, traffic police installed facial scanners at intersections to catch and shame jaywalkers, and a Beijing university has used the technology to guard its dorms," the Xinhua report said.
Close Story