Donald Trump's ex-lawyer Michael Cohen pleads guilty, says lied about president's Moscow project
Updated on Nov 30, 2018 10:06 AM IST
Michael Cohen had earlier said the talks about the project stalled in January 2016, just a month before the Iowa caucus. But, he told a New York court on Thursday, negotiations had continued for another five months till June.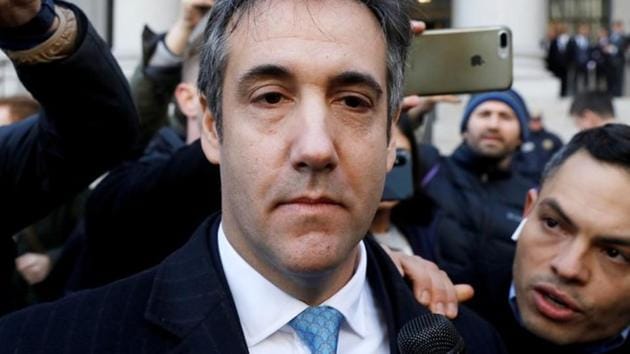 US President Donald Trump's former long-time lawyer and fixer, Michael Cohen, has now admitted to lying to US congress about a Moscow project that Trump had pursued even as he ran for the White House.
Cohen had earlier said the talks about the project stalled in January 2016, just a month before the Iowa caucus. But, he told a New York court on Thursday, negotiations had continued for another five months till June.
According to court papers filed by special counsel Robert Mueller, who is investigating Russian interference in the presidential election and possible coordination with the Trump campaign, Cohen said he discussed the proposal with Trump on multiple occasions and with members of the president's family. Cohen acknowledged considering traveling to Moscow to discuss the project.
Also Read: Report points to Donald Trump's role in hush money payments
There is no clear link in the court filings between Cohen's lies and Mueller's central question of whether the Trump campaign colluded with Russia. And nothing said in court, or in associated court filings, addressed whether Trump or his aides had directed Cohen to mislead Congress.
Still, the case underscores how Trump's business entity, the Trump Organization, was negotiating business in Moscow at the same time investigators believe that Russians were meddling on his behalf in the 2016 election, and that associates of the president were mining Russian connections during the race.
The Cohen revelation comes as Mueller's investigation is showing fresh signs of aggressive activity. Earlier this week, Mueller's team accused Trump's former campaign chairman, Paul Manafort, of lying after his own guilty plea.
The special counsel continues to investigate whether campaign associates had advance knowledge of hacked emails becoming public. Another potential target, Jerome Corsi, has rejected a plea offer and faces a possible indictment.
Also Read: Have more important things to do: Melania Trump on Donald Trump's infidelity rumors
Last week, Trump for the first time provided Mueller with responses to written questions.
Cohen is the first person charged by Mueller with lying to Congress, an indication the special counsel is prepared to treat that offence as seriously as lying to federal agents and a warning shot to dozens of others who have appeared before lawmakers.
Cohen told two congressional committees last year that the talks about the tower project ended in January 2016, a lie he said was an act of loyalty to Trump. In fact, the negotiations continued until June 2016, Cohen acknowledged.
His court appearance Thursday marked the latest step in his evolution from trusted Trump consigliere to prime antagonist. Prosecutors say Cohen is cooperating with Mueller and has met with his team at least seven times.
Also Read: Ex-Trump aide Manafort agrees to cooperate with Mueller, pleads guilty
It is the second time the lawyer's legal woes have entangled Trump, coming months after Cohen said the president directed him during his campaign to make hush money payments to two women who said they had sex with Trump.
US President Trump had repeatedly denied having any business dealings with Russia, which has been the focus of probe by a special prosecutor for allegedly meddling in the US elections in 2016 to help Trump win.
"Michael Cohen is lying and he's trying to get a reduced sentence for things that have nothing to do with me," the president told reporters before leaving for the G-20 summit.
He added that he had considered the project but did not go ahead with it.
"We decided, I decided, ultimately not to do it. There would have been nothing wrong if I did do it."
He added: "My focus was running for president. But when I run for president, that doesn't mean I'm not allowed to do business. I was doing a lot of different things when I was running. After I won, obviously I don't do business. After January the 20th, which was the following year."
About an hour later, Trump canceled a planned meeting with Russian President Vladimir Putin at the Group of 20 nations.
During the campaign, Trump was repeatedly dismissive of claims that he had connections to the Kremlin, an issue that flared as especially sensitive in the summer of 2016 after the Democratic National Committee and a cybersecurity company asserted that Moscow was behind a punishing cyberattack on the party's network.
"I have a great company. I built an unbelievable company, but if you look there you'll see there's nothing in Russia," Trump said at a July 2016 news conference.
"But zero, I mean I will tell you right now, zero, I have nothing to do with Russia," he said.
Mueller has asked Trump about the Russian real estate deal, but it was not immediately clear whether it was one of the questions Trump answered last week. If he did answer questions on the topic, Trump could have problems if the responses deviate from prosecutors' factual narrative.
Mueller handled Thursday's charges and not the federal prosecutors in New York who handled Cohen's previous guilty plea in August to other federal charges involving his taxi businesses, bank fraud and his campaign work for Trump.
Cohen will be sentenced December 12 and guidelines call for little to no prison time on the new charge.
(With agency inputs)
Personalise your news feed. Follow trending topics