Former German chancellor Schroeder elected chairman of board at Russia's Rosneft
Updated on Sep 30, 2017 03:06 PM IST
Schroeder was heavily criticised by Angela Merkel for accepting a $500,000-a-year pre-tax board job with the Russian oil giant.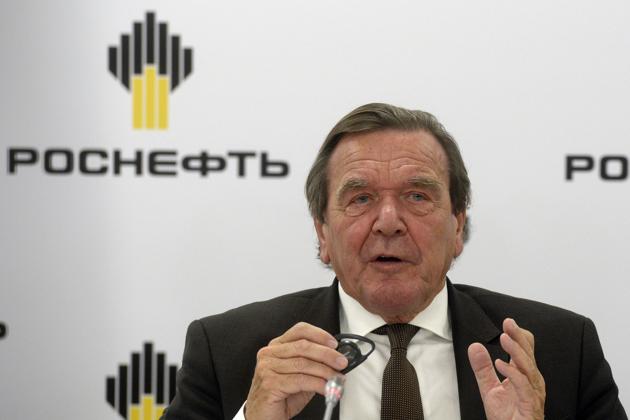 Saint Petersburg, Agence France-Presse |
Agence France-Presse
Former German chancellor Gerhard Schroeder announced on Friday that he would chair the board of Russia's state-controlled oil major Rosneft after shareholders approved his nomination.
"First and foremost, I am really very glad that I was elected not only as a member of the board of directors but as the chairman," Schroeder told journalists in comments translated into Russian.
"I am an independent director. You can take that as a starting point. One of my tasks is to find a compromise when there are different opinions."
The 73-year-old spoke after a vote at the annual general meeting for the shareholders of the group controlled by the Russian government.
The Russian government in August nominated Schroeder, a close friend of President Vladimir Putin, to join the board of Rosneft, which is subject to western sanctions over Moscow's role in the Ukraine conflict.
He was among seven nominees in a decree signed by Prime Minister Dmitry Medvedev for a vote to increase Rosneft's board to 11 from nine. He was nominated as a non-executive director.
Ahead of the general election, Schroeder drew fire from German Chancellor Angela Merkel for accepting a $500,000-a-year pre-tax board job with Rosneft.
"I don't think what Schroeder is doing is okay," Merkel said in critical comments on her predecessor in August.
Rosneft, Russia's biggest oil producer, is 50 percent state-owned.
Rosneft acquired most of Yukos's assets after the company's founder, Kremlin critic Mikhail Khodorkovsky, was arrested in 2003 and jailed for a decade.
Schroeder, a Social Democrat who was German chancellor from 1998 to 2005, has publicly opposed sanctions placed on Rosneft because of Russia's interference in Ukraine.
While chancellor, Scroeder championed a Nord Stream pipeline agreement with Russia, which was signed during his last days in office.
Having since built a business career in Russia, he heads up a shareholders' committee at Nord Stream, which supplies gas to Germany via the Baltic Sea.