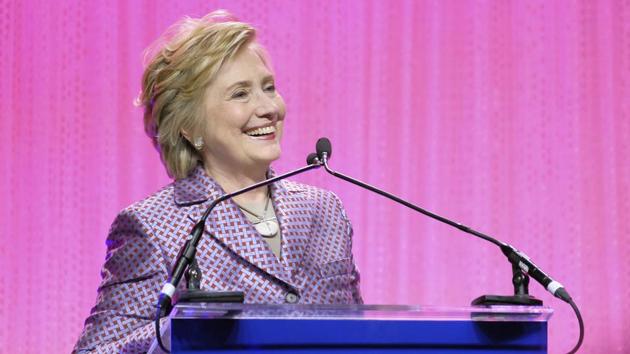 I would be your president if FBI letter, leaks didn't happen, says Hillary
"If the election had been on October 27, I would be your president," Clinton said in an interview-style public event in New York with CNN's Christiane Amanpour.
Hindustan Times, Washington | By Yashwant Raj
UPDATED ON MAY 10, 2017 07:07 AM IST
Six months after her stunning defeat in the run for the White House, Hillary Clinton has returned to public life. This time, she said on Tuesday, as a "citizen activist" and "part of the resistance", a loose coalition of those opposing President Donald Trump.
She kicked off her new career with pointed criticism of Trump's Syria bombing—which she supported but thought was not backed with a strategy—offer to talk to the North Korean leader Kim Jong-Un, and a swipe at his tweeting.
The former secretary of state was uncharacteristically blunt and unscripted, specially in her assessment of her defeat, which she was reliving for a book — a "painful process … as you might guess" — she was writing about the campaign.
"If the election had been on October 27, I would be your president," Clinton said in an interview-style public event in New York with CNN's Christian Amanpour.
On October 28, FBI director James Comey sent congress a note, which promptly became public, that the agency was taking another look at the case about Clinton's use of a private email server as secretary of state, which he had announced closed earlier.
"I was on the way to winning until the combination of Jim Comey's letter on October 28 and Russian WikiLeaks raised doubts in the minds of people who were inclined to vote for me but got scared off," she said, but not for the first time.
This time, however, she went further and suggested collusion between Trump's campaign and the release of hacked communications of her campaign chair John Podesta and the Democratic party's computer network by the Russians.
Just as outrage was building on the release of Hollywood Access tapes about Trump boasting about sexually assaulting women, came the WikiLeaks announcement — some "coincidence", noted Clinton — of 50,000 hacked emails belonging to Podesta.
"If you chart my opponent and his campaign's statements, they quite coordinated with the goals that leader who shall remain nameless had," Clinton said, referring to Russian president Vladimir Putin.
US intelligence has alleged that Russia meddled in the 2016 presidential election to ensure Clinton's defeat and help Trump win the presidency which is currently the subject of multiple investigations by the FBI and Congress.
While Clinton reprised these well-reported charges, she seemed hesitant to acknowledge her own mistakes in her defeat, despite saying, "I take absolute personal responsibility. I was the candidate. I was the person who was on the ballot."
But, as was widely noted and commented upon, she did not give details of her own role in her defeat — not her decision to ignore rural America, not campaigning in Wisconsin and Michigan states that tipped the scale in Trump's direction.
Asked if misogyny played a role in her defeat as well, Clinton answered in the affirmative: "Yes, I do think it played a role … "(it) is very much a part of the landscape politically and socially and economically."
Her coming book may tell more, possibly beyond the story of a "spirit-crushing" campaign riven by infighting and the candidate's own "missteps" as told in a new book "Shattered: Inside Hillary Clinton's doomed campaign".
Close