India abducted retired army officer to secure Jadhav's release: Pak officials
The colonel, who reportedly retired in October 2014, was visiting Nepal for a job interview from where is went missing.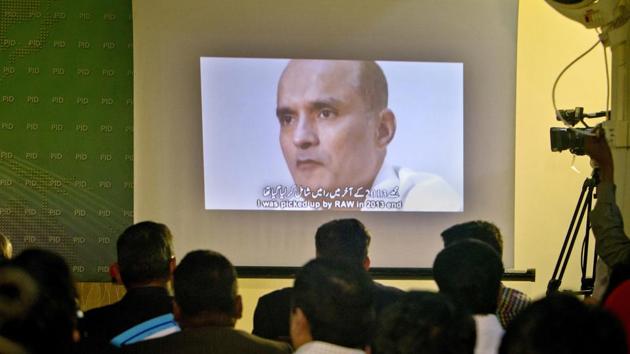 Updated on Apr 18, 2017 11:57 PM IST
Islamabad |
Associated Press
A Pakistani retired army officer was lured to Nepal with a job prospect before being seized by Indian intelligence, which hopes to use him to secure the release of an Indian agent sentenced to death by Pakistan, security officials said on Tuesday.
According to two senior security officials, Indian agents abducted Lt Col Mohammad Habib, who went missing on April 6 after arriving in Nepal. They said Habib's abduction was aimed at pressuring Pakistan to release Kulbhushan Jadhav, an Indian naval officer convicted of espionage who was sentenced to death on April 10.
Both officials spoke on condition of anonymity because they were not authorised to talk to reporters about the case. Indian officials did not immediately respond to a request for comment.
One of the officials said records show that Habib "arrived at the Kathmandu airport on April 6. An Indian national took him to a hotel after receiving him" at the airport.
The second official also confirmed the account, saying Indian spy agency Research and Analysis Wing planned Habib's abduction.
The two Pakistani officials said Jadhav has been linked to 1,345 deaths in acts of terrorism in Pakistan. They told The Associated Press that he joined India's Naval intelligence in 2001 and was later posted in Iran, from where he made secret trips to Pakistan using fake ID documents before his 2016 arrest.
The officials claimed that Jadhav had confessed to espionage and terror-linked activities during his interrogation. He has the right to appeal to a military appeals court or petition the army chief for mercy. Also, under the constitution, Pakistan's president could pardon Jadhav.
Pakistan and India have a history of bitter relations, and Jadhav's death sentence has further strained ties. India has denounced Jadhav's trial as a farce, insisting he was abducted from Iran and that his subsequent presence in Pakistan was never credibly explained
Close Story