India, Nepal to build new cross-border power lines
Published on Feb 15, 2017 07:21 PM IST
During a meeting of the Indo-Nepal joint working group and joint steering committee (JSC) on power cooperation, India expressed its readiness to train Nepalese engineers in operational and commercial issues.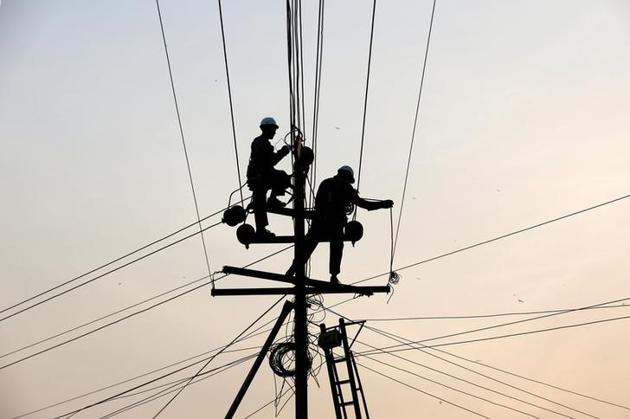 India and Nepal have agreed to build new cross-border power transmission lines to help in the distribution of electricity from power projects being developed in Nepal.
The new Butwal(Nepal)-Gorakhpur (India) and Lumki (Nepal) –Bareilly ( India) transmission lines and new 400 kV sub-stations at Dhalkebar, Butwal and Hetauda, all in Nepal, were discussed during the fourth meeting of the Indo-Nepal joint working group and joint steering committee (JSC) on power cooperation, which concluded here on Tuesday.
The modalities for building and funding the transmission lines will be discussed by the joint technical team. The Indian side expressed its readiness to consider new letters of credit (LOCs) for building infrastructure on the Nepalese side, said a statement from the Indian embassy in Kathmandu.
During the meeting, India expressed its readiness to train Nepalese engineers in operational and commercial issues. Power Grid Corporation of India is willing to come up with special training courses to meet the requirements of the Nepalese side.
While assessing progress in several India-funded hydropower projects, concern was expressed about delays in acquiring forest land for the Arun-III ( 900 MW) and Upper Karnali ( 900 MW) projects, which have led to delays and affected economic viability. The Nepalese side said these issues will be resolved in two months.
The Nepalese side also expressed interest in acquisition of LED bulbs from India. India has installed more than 210 million LED bulbs, enhancing power efficiency and reducing costs. It plans to install 770 million LED bulbs in a few years.
The Indian side said new guidelines issued by the government for cross-border trade of electricity were "fair and liberal" after Nepal raised some objections. "The guidelines provide a lot of comfort and certainty to power developers interested in exporting electricity to India," the statement said.
The Nepalese side appreciated efforts by the Indian government to supply more electricity to Nepal to overcome an energy shortage during the winter. The current import of 380 MW from India was made possible by the installation of an additional transformer at Muzaffarpur and technical improvements at Tanakpur.
With the commissioning of two new lines - Raxaul-Parwanipur and Kataiya-Kusaha - the capacity for power exports to Nepal will increase by 100 MW to 120 MW by the end of February. Once a substation at Dhalkebar is completed, the capacity will further increase to 700 MW by mid-2017.
Close Story
'Top secret' documents seized in raid on Donald Trump's home: Report

FBI agents recovered records marked "top secret" during their search of former president Donald Trump's Florida estate, according to documents made public Friday in a probe that includes possible violations of the US Espionage Act. The warrant and related materials, unsealed by a Florida judge, showed agents took away with them a significant amount of classified files after the raid, which ignited a political firestorm in an already bitterly divided country.

Salman Rushdie had multiple stab wounds, says doctor who helped him

Salman Rushdie suffered multiple stab wounds, including one to the right side of his neck, and was lying in a pool of blood under his body after he was attacked at an event here on Friday, according to a doctor who helped the Mumbai-born controversial author following the brutal assault. Rushdie was attacked and stabbed in the neck on Friday while onstage in Chautauqua in Western New York, New York Police said.

Montenegro mass shooting leaves 12 dead, 6 injured

Twelve people including a gunman were killed in a mass shooting in Montenegro on Friday, according to local media reports, while another six were injured. Police at the scene in the western Montenegrin city of Cetinje declined to comment on the incident. The media reports said a man from Cetinje had opened fire at random in his neighbourhood after a family dispute, killing 11 people and injuring six others.

Terrible day for authors everywhere, say Salman Rushdie's peers after NY attack

Moments after the 75-year-old Booker Prize winner Salman Rushdie was attacked on a stage in New York, several celebrated authors took to Twitter to express their concern. Stephen King, the author of several horror books, including 'It' and 'The Shining', took to Twitter and wrote 'I hope Salman Rushdie is okay.' The US senator of New York Chuck Schumer called the incident a 'shocking and appalling attack on freedom of speech and thought.'

Salman Rushdie is alive and airlifted to safety, says New York governor

British author Salman Rushdie, who was attacked and stabbed in the neck at a literary event on Friday in western New York state, is alive and has been airlifted to safety, said New York's governor Kathy Hochul. Rushdie, whose writings made him the target of Iranian death threats, was taken by helicopter to a local hospital. Social media footage showed people rushing to Rushdie's aid and administrating emergency medical care.
Personalise your news feed. Follow trending topics