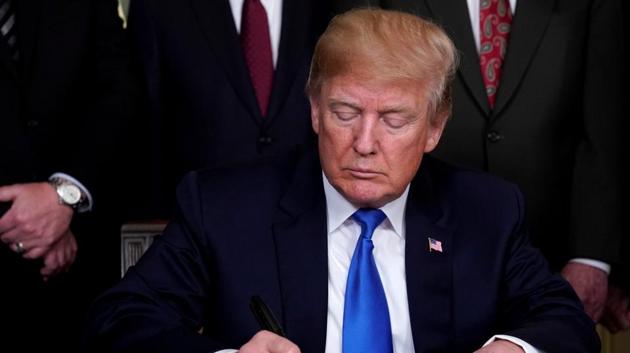 India to Thailand: What governments are doing to fight 'fake news'
Smriti Irani's information and broadcasting ministry dropped a controversial press statement that said journalists found guilty of writing or broadcasting "fake news" would lose their government accreditation. Here is what countries are doing to tackle "fake news".
UPDATED ON APR 03, 2018 07:57 PM IST
The information and broadcasting ministry on Tuesday dropped a controversial press statement that said journalists found guilty of writing or broadcasting "fake news" would lose their government accreditation.
Prime Minister Narendra Modi intervened to scrap the statement, which journalists and opposition parties described as an effort to control the press ahead of a general election due by next year.
Co-opted by US President Donald Trump, the term "fake news" has quickly become part of the standard repertoire of leaders in several countries to describe media reports and organisations critical of them. Fake news and disinformation campaigns are real threats, but often, measures undertaken by governments are aimed at curbing press freedom in the guise of cracking down on fake news. Here is a list of the actions against fake news taken by governments across the world to tackle alleged fake news:
Trump uses Twitter to attack media criticism of him. In the latest, he defended local TV news giant Sinclair Broadcast Group on Monday as the rightwing news network came under fire for forcing its local news anchors to read an identical script criticizing "fake" news stories.
Europe Union plans to crack down on social media companies accused of spreading "fake news", CNBC reported Monday. The European Commission fears that next year's elections to the European Parliament are vulnerable to mass eurosceptic online "disinformation".
Malaysia has passed a law which sets out fines of up to 500,000 ringgit ($123,000) and a maximum six years in jail for offenders who spread fake news inside and outside Malaysia, including foreigners, if Malaysia or a Malaysian citizen are affected. The law, which comes ahead of a general election, covers news outlets, digital publications and social media.
In Singapore, a parliamentary committee has been reviewing possible measures to prevent "deliberate online falsehoods". An eight-day hearing -- the longest in Singapore's history -- drew to a close on March 29. The committee will prepare a report on possible new legislation in May, after parliament's mid-term break, its chairman, Charles Chong, told the final session.
Philippine President Rodrigo Duterte has "lost trust" in news site Rappler and barred it from covering his official events, his spokesman said in February. Duterte has called Rappler a fake news outlet, making no secret of his annoyance at its reporting, which has heavily scrutinised his polices and the accuracy of his statements. Additionally, anti-fake news legislation, which would impose fines and prison terms of up to 20 years for spreading false information, is under consideration in the Philippines.
Thailand already has a cyber-security law under which the spread of false information carries a jail sentence of up to seven years, and the military government strictly enforces lese majeste laws that shield the royal family from insult.
(With inputs from Reuters)
Close