India-UK immigration treaty on the anvil
Jul 18, 2017 11:57 PM IST
A comprehensive agreement to be signed by India and the UK later this year will address a range of immigration-linked issues, including illegal migrants and extradition.
The range of immigration-related issues between India and the United Kingdom – including returning illegal migrants, extradition and visas – is to be addressed in a comprehensive agreement due to be signed in New Delhi later this year.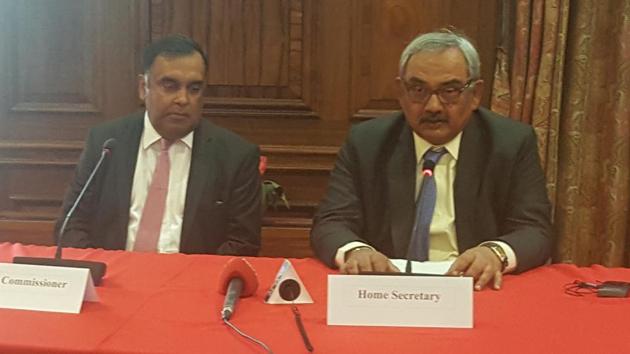 These issues were discussed by home secretary Rajiv Mehrishi in a series of meetings with British interlocutors during his week-long visit here. Most of the interactions, including on counter-terrorism, were said to be out of the public domain.
Officials told Hindustan Times the British side is keen to address the range of issues as a package and reach an agreement during immigration minister Brandon Lewis' visit to New Delhi later this year.
Key issues include visas for diplomats, students and IT professionals, radicalisation and New Delhi's concerns about London allowing groups perceived as anti-India to function and raise funds in the UK.
The British side said while there was no compromise on terrorism, it preferred "engagement" with such groups than "confrontation". British authorities withdrew permission earlier this month for a rally in Birmingham to commemorate the death of Hizbul Mujahidden commander Burhan Wani.
Mehrishi told journalists that terror threat assessments were shared by the two sides during the talks, which covered issues such as cyber security, fighting organised crime, the mutual legal assistance treaty and maritime security.
"There is no dispute or willingness to take back Indians who may be in the UK illegally. Their assessment is that on an average, 1,000 illegal Indians show up. We will expedite the return of all those who are identified as Indians," he said.
The annual figure of 1,000 adds another dimension to the issue that has been linked by Prime Minister Theresa May to improving the overall visa offer for Indians. The British side is keen to speed up the process of identifying and returning illegal Indians.
No official figures for illegal migrants are published but according to a top British functionary, Indians top the list, numbering over 100,000 - more than twice the number from Nigeria, the next country on the list of illegal foreign nationals.
Another key issue related to India considerably lowering the visa fees for British nationals, particularly the e-visa, while the cost of UK visas for Indians remained high. The principle of reciprocity demanded a similar reduction of UK visa fees for India, the officials said.
Mehrishi also said India will shortly extradite an individual to the UK but did not name the person. However, officials later said the man was Bangladeshi national Mohammad Abdul Shakur, who arrested in Assam after he was accused of murdering his family in 2007. Mehrishi added the 1993 India-UK extradition treaty is working well and no individual case was discussed during his talks here.