Islamic State withdraws from Syria's Aleppo province: Monitor
The Islamic State group no longer has a presence in Syria's Aleppo province after withdrawing from a series of villages where regime forces were advancing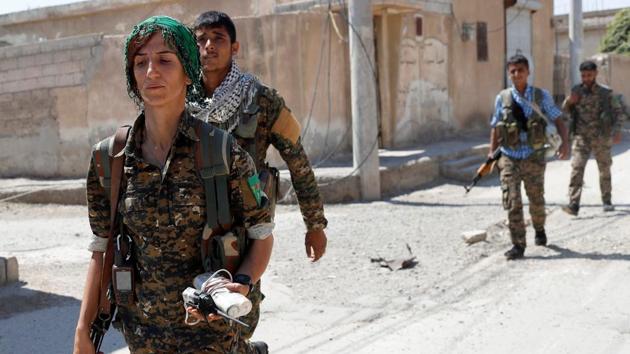 Updated on Jun 30, 2017 07:38 PM IST
The Islamic State group no longer has a presence in Syria's Aleppo province after withdrawing from a series of villages where regime forces were advancing, a monitor said on Friday.
"IS withdrew from 17 towns and villages and is now effectively outside of Aleppo province after having a presence there for four years," said Rami Abdel Rahman, head of the Syrian Observatory for Human Rights.
Regime forces had been advancing on a sliver of southeastern Aleppo province around a key highway linking Hama province to the southwest and Raqa province further east.
Abdel Rahman said regime forces seized control of the road late Thursday night, prompting the remaining IS fighters to flee.
A Syrian military source in rural Aleppo confirmed the withdrawal.
"The military operation is ongoing and Daesh withdrew from the Aleppan countryside towards rural territory in Hama and Raqa," the source told AFP, using the Arabic acronym for IS.
"The Syrian army is clearing out the last few metres," the source added.
A second military source, quoted by Syrian state news agency SANA, also confirmed that IS had pulled out of territory along the Ithraya-Rasafa highway.
Since early 2015, multi-front offensives against IS have eaten away at territory the group held in Aleppo province.
US-backed Kurdish and allied Arab fighters ousted the jihadists from Kobane on the Turkish border in 2015 and from the key city of Manbij last year.
Rebels backed by Turkey seized the town of Al-Bab in February, and Syrian government troops have steadily chipped away at IS towns in the south of the province.
In neighbouring Raqa province, a US-backed offensive is bearing down on the provincial capital of the same name, which has served as the jihadists' de facto Syrian capital.
Abdel Rahman described Friday's withdrawal as "a new loss for IS that decreases its influence and demonstrates that we are watching its collapse as an organisation that can manage geographical territory".
Syria's conflict broke out in March 2011 with protests against President Bashar al-Assad, before turning into a complex, bloody war.
World powers including Russia, Turkey, and a US-led global coalition have all been drawn into the war, which has left more than 320,000 people dead.
Talks aimed at reaching a lasting ceasefire will resume in the Kazakh capital Astana next week, before another round of UN-backed peace negotiations in Geneva in mid-July.
.
Close Story
Personalise your news feed. Follow trending topics