At least 16 injured in New York subway shooting; police look for man in gas mask
Updated on Apr 12, 2022 10:03 PM IST
The Bureau of Alcohol, Tobacco, Firearms and Explosives was on the scene, and the FBI said it also was responding. There are no active explosive devices, the NYPD said on Twitter.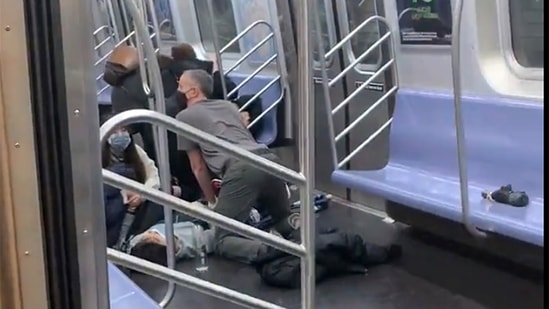 Multiple people were shot and at least 16 were injured on Tuesday in a subway station near Brooklyn's Sunset Park in New York City, news agency AFP reported. The shootings occurred during the morning commute at the 36th Street subway station in Brooklyn.
The US media reported that at least five people were shot, citing sources in the New York Fire Department, but it was not immediately clear whether the number of injured people included those who were shot. A photo from the scene showed people tending to bloodied passengers lying on the floor station. Trains servicing that station were delayed during the morning commute.
Police looking for man in orange construction vest
The whereabouts of the perpetrator were unclear. Police said they were searching for a Black man with an orange construction vest and a gas mask who is about 5 feet, 8 inches and weighs about 175 to 180 pounds.
No active explosive devices
The Bureau of Alcohol, Tobacco, Firearms and Explosives was on the scene, and the FBI said it also was responding. There are no active explosive devices, the NYPD said on Twitter shortly before 10am.
Service has been halted on the D, N and R trains in Brooklyn and some stations in Manhattan, and commuters were told to expect major delays on those lines as well as the B, F and Q. The Metropolitan Transportation Authority urged riders to take alternate subway or bus lines.
Not being investigated as 'act of terrorism'
New York City police commissioner Keechant Sewell said the attack is not being investigated as an act of terror, adding that none were in "life threatening" condition.
"This is not being investigated as an act of terrorism at this time," Sewell told reporters. "Reportedly we have no one with life-threatening injuries as a result of this case."
Fire Department commissioner Laura Kavanagh said 10 of the 16 people injured had suffered gunshot wounds.
President Biden briefed
New York governor Kathy Hochul said she has been briefed on the incident. New York City Mayor Eric Adams, who has Covid and was isolating, continues to be briefed, according to a spokesman.
"President Biden has been briefed on the latest developments regarding the New York City subway shooting," White House press secretary Jen Psaki said. "White House senior staff are in touch with mayor Adams and police commissioner Sewell to offer any assistance as needed."
Eyewitnesses recall terrifying scenes
Juliana Fonda, a broadcast engineer at radio station WNYC, told local news website Gothamist that she heard shots while in an adjoining subway car. "The reaction of the passengers was terrifying because they were trying to get into our car away from something that was happening in the back of the train," she said.
Also Read | Live updates on New York subway shooting
"None of us in the front of the train knew what was going on, but people were pounding and looking behind them, running, trying to get onto the train."
She added that she heard "a lot of loud pops" and that there was smoke in another train car.
The incident began as the train was "inching" towards the 36th Street platform, one passenger Yav Montano told CNN. He said smoke began filling the car he was in.
"There's a lot of blood on the floor," he said. "In the moment, I did not think that it was a shooting because it sounded like fireworks."
Passengers crowded towards the front of the car, Montano said, but the door to the next car was locked.
"There were people in that other car that saw what was happening. And they tried to open the door, but they couldn't," he said.
Videos being circulated
Unverified video footage circulating on social media appeared to show the smoke-filled train pulling into the 36th Street station, and passengers rushing off the carriage, some apparently injured.
A separate video posted on Instagram appeared to show passengers tending to bloodied victims lying on a smoky station platform.
Those images, also unverified, showed subway staff shepherding panicked passengers, some still clutching their morning coffee cups, off the platform and into the carriages of a stationary train.
An unidentified person can be heard saying that a fire had been set in the train car, and that he saw "at least eight people" shot.
Mass casualty shootings in US
Mass casualty shootings happen with relative frequency in the United States, where firearms are involved in approximately 40,000 deaths a year, including suicides, according to the Gun Violence Archive website.
Shootings in New York City have risen this year, and the uptick in violent gun crime has been a central focus for mayor Eric Adams since he took office in January. Through April 3, shooting incidents rose to 296 from 260 during the same period last year, according to police statistics.
The incident came just a day after Biden announced new gun control measures, increasing restrictions on so-called "ghost guns", the difficult-to-trace weapons that can be assembled at home.
Lax gun laws and a constitutionally guaranteed right to bear arms have repeatedly stymied attempts to clamp down on the number of weapons in circulation, despite greater controls being favoured by the majority of Americans.
Three-quarters of all homicides in the United States are committed with guns, and the number of pistols, revolvers and other firearms sold continues to rise.
(With inputs from agencies)
Personalise your news feed. Follow trending topics