Canadian police frees Khalistani 'separatist' Hardeep Nijjar after 24 hours in custody
Hardeep Singh Nijjar's name was in the list of wanted persons handed over to Canadian Prime Minister Justin Trudeau by Punjab chief minister Captain Amarinder Singh, when the two met in Amritsar in February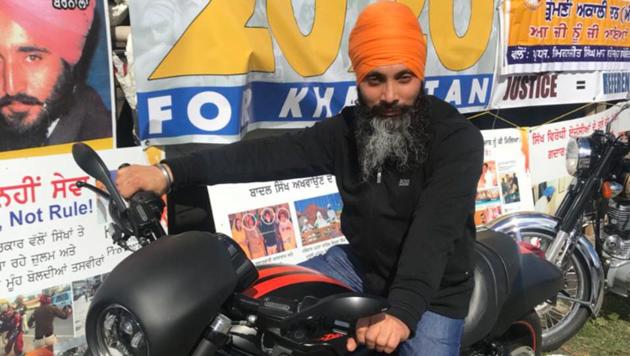 Updated on Apr 27, 2018 09:02 AM IST
Hardeep Singh Nijjar, accused of being a Khalistani terrorist by the Indian government, was briefly taken into custody by Canadian law enforcement in mid-April, but was released within 24 hours, without any charges being filed.
Days later, Nijjar, who has been accused in India of being responsible for multiple targeted killings, was front-and-centre at Baisakhi celebrations in Surrey, a suburb of Vancouver in British Columbia.
According to sources, Nijjar was detained by the Surrey unit of the Royal Canadian Mounter Police (RCMP) in the afternoon of April 13. He was released the next day and no charges have been filed against him so far. An RCMP spokesperson did not comment on the matter, saying the organisation does not speak about ongoing investigations or cases where no charges have been registered.
Nijjar is being represented by Sikhs For Justice's legal advisor Gurpatwant Pannun in his personal capacity, and also by Vancouver-based law firm Peck and Company. The founder of the legal firm, Richard Peck, had also represented one of the accused in the bombing of Air India flight 182, Ajaib Singh Bagri.
Nijjar's name was in the list of wanted persons handed over to Canadian Prime Minister Justin Trudeau by Punjab chief minister Captain Amarinder Singh, when the two met in Amritsar in February. It does not appear that any other person from the list has been detained or questioned by the Canadian authorities so far.
In a statement emailed to Hindustan Times, Nijjar said, "I am being targeted and framed in false criminal cases by Indian authorities for my relentless campaign against the genocidal violence against the Sikhs and continuous support for Referendum 2020 to liberate Punjab and create separate Sikh country Khalistan."
Pannun, who is representing Nijjar with regard to possible action based on a Red Corner Notice from Interpol, said, "He was never charged with any crime, and released unconditionally, at least as of right now."
Indian authorities believe Nijjar to be linked to Khalistan Tiger Force and had communicated their concerns to Ottawa that he was allegedly conducting weapons training at a range in the locality of Mission City.
Nijjar has also been closely associated with SFJ. Along with Malkeet Singh Fauji, also on the list given to the Canadian government, he had participated in SFJ's 'Punjab Referendum 2020' conference in a suburb of Toronto on March 31. He was also the principal organiser of SFJ's extensive presence at the Surrey nagar kirtan last weekend.
Close Story
Personalise your news feed. Follow trending topics