Oli to raise issue of demonetised Indian notes with Modi
The issue has been pending for 17 months since India withdrew old currency notes of
₹
500 and
₹
1,000 denominations and issued fresh ones.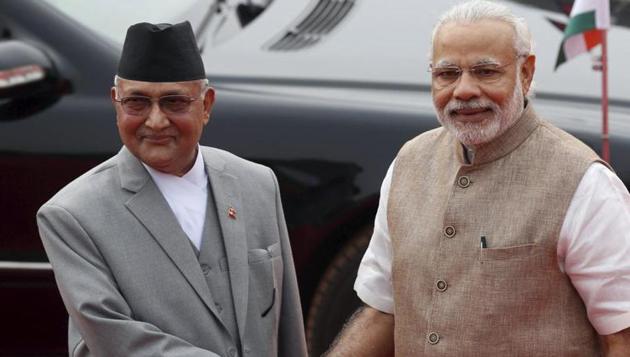 Updated on Apr 05, 2018 08:27 PM IST
Hindustan Times, Kathmandu |
Anil Giri
Nepal's Prime Minister KP Sharma Oli will raise the issue of demonetised Indian bank notes worth an estimated $108 million held by Nepalese financial institutions and individuals at talks with his counterpart Narendra Modi during his state visit beginning on Friday.
The issue has been pending for 17 months since India withdrew old currency notes of ₹500 and ₹1,000 denominations and issued fresh ones. Thousands of Nepalese nationals, including many living and working in India, were affected from the move.
An official study has estimated that demonetised ban notes worth more than ₹7 billion (about $108 million) are currently held by banks, financial institutions and individuals in Nepal. Authorities have been waiting for Indian approval for swapping these notes.
Oli, while addressing Parliament about his India visit late on Tuesday, said the issue of demonetised Indian notes would be on his agenda. "The Indian demonetisation has hurt Nepali nationals. I will raise this in my meetings with Indian leaders and request them to resolve the issue," he said.
Narayan Prasad Poudel, the spokesperson for Nepal's central bank, said Oli is expected to raise the issue with his Indian counterpart but the outcome is not sure. Details about Indian notes held by banks and financial institutions and progress made in negotiations with India have been provided to the finance ministry, he said.
"Officials of the two central banks held several rounds of talks to pave the way for swapping the banned currency notes but no progress has been made so far. The Indian government had earlier assured Nepal it would exchange the invalid notes but the issue has remained unresolved for almost 17 months," Poudel said.
The Nepal Rastra Bank (NRB) and the Reserve Bank of India have prepared reports on the demonetisation of ₹500 and ₹1,000 notes. NRB has demanded India should allow Nepalese citizens to exchange demonetised bank notes worth ₹25,000.
Apart from demonetised Indian notes, Oli will also raise other pending issues such as the release of gas bullets purchased by Nepalese traders which have been held up by the Indian side for long, pending India-funded projects in Nepal, construction of a petroleum pipeline between Nepal and India, the huge trade imbalance, and clearance of a line of credit offered by India, according to Nepal's foreign ministry.
Close Story
Personalise your news feed. Follow trending topics