Pakistan mosque blast toll mounts to 59; Hospital appeals for blood donations
Jan 30, 2023 10:40 PM IST
Pakistan mosque blast: The Peshawar Police have said a number of police personnel are still stuck under the debris and rescue operations are underway to pull them out of the rubble.
At least 59 people have been killed and over 150 people have been injured in a powerful blast which rocked a mosque inside Peshawar Police headquarters in the Khyber Pakhtunkhwa capital on Monday.

The hospitals including the Lady Reading Hospital have been flooded with injured victims which were brought in after a bomber sneaked into the walled compound and set off the explosive vest while more than 300 worshippers were offering prayers. A majority of casualties are police officials, several media reports stated.

The Tehreek-e-Taliban Pakistan (TTP), a terror group which has been waging a war against Pakistan forces since the past 15 years, has claimed responsibility for the terror attack.

Pakistan mosque blast: Follow LIVE updates here

Here are the top developments on one of the worst terror attacks in Peshawar in recent years.

1. Pakistan prime minister Shehbaz Sharif visited the Lady Reading Hospital and met the injured victims. He was accompanied by top government and Pakistan Army officials. "Just returned from Peshawar. The sheer scale of the human tragedy is unimaginable. This is no less than an attack on Pakistan. The nation is overwhelmed by a deep sense of grief. I have no doubt terrorism is our foremost national security challenge", the Pakistani prime minister tweeted.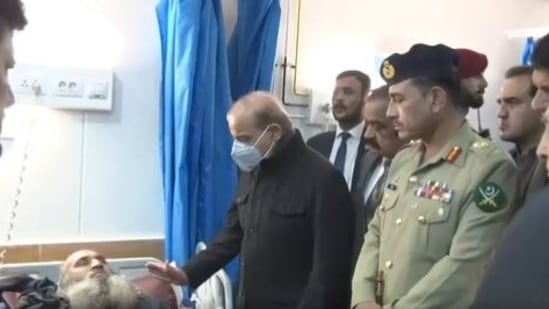 2. As the injured continue to be treated at various hospitals, Sharif directed his party workers to donate blood to save lives."I direct the Muslim League (N) workers to donate blood to save the lives of those injured in the suicide attack, especially the people with 'O-Negative' blood, students and party workers are appealed to immediately. Reach Lady Reading Hospital, Peshawar and contribute to saving precious human lives", the translation of Sharif's tweet in Urdu read.

3. The Peshawar Police has said that a number of police personnel are still stuck under the debris and rescue operations are underway to pull them out of the rubble, Dawn reported. However, Peshawar's City Police Officer Muhammad Ijaz Khan said that it is early to say anything substantial on the nature of explosives. "As the prayer leader said 'Allah is the greatest', there was a big bang," Mushtaq Khan, a policeman with a head wound, told Reuters from his hospital bed.

4. Following the blast in Peshawar, high alert has been sounded in Islamabad. According to a tweet by the Islamabad Police, security checks have been increased at all entry and exit points. Snipers have been deployed at important ports and buildings.

5. The Lady Reading Hospital, which is majorly treating the injured victims, said some of the injured are in a critical condition but most of them are stable. According to an Express Tribune report, the hospital has issued an appeal for blood donations.

(With Reuters, AP inputs)