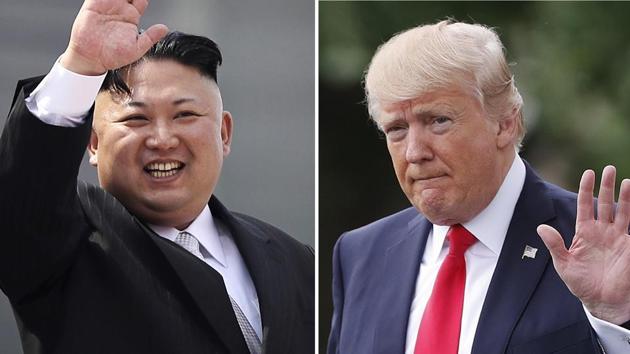 'Rocket man' versus 'dotard': Will Kim Jong Un win war of words against Trump?
The world was reintroduced with the 14th century term "dotard", thanks to North Korea's Kim Jong-un.
UPDATED ON SEP 22, 2017 05:29 PM IST
North Korean leader Kim Jong Un accused the US President Donald Trump of "mentally deranged behaviour". But what caught people's attention in Kim's official outburst was the word "dotard".
According to Merriam Webster dictionary, the word means: "a person in his or her dotage". It comes from the Middle English word doten (meaning "to dote"), which initially had the meaning of "imbecile" when it began being used in the 14th century.
Kim used "dotard" not once, but twice to refer to Trump in the statement:
"Action is the best option in treating the dotard who, hard of hearing, is uttering only what he wants to say," Mr Kim wrote.
Kim ended his statement with this fiery warning: "I will surely and definitely tame the mentally deranged US dotard with fire."
The archaic word gave rise to its own hashtag #dotard and trended worldwide. Twitterverse tried to wrap their heads around the word and wondered why dotard even went out of use.
Some speculated what word Trump, who is fond of calling his opponent Hillary Clinton 'Crooked Hillary', would choose to retaliate with. Others suggested Kim would make a great dialogue writer for Game of Thrones.
CNN notes that Kim's remarks, which were delivered in response to Trump's United Nations address, were made in Korean and "dotard" was used in the Korean Central News Agency's English translation.
But this is not the first example of North Korea's caustic comments. The country has a reputation of attacking world leaders with unique insults. It called former president Barack Obama a "wicked black monkey", while Hillary Clinton has been referred to as a "primary schoolgirl" and "a pensioner gone shopping".
Kim's broadside comes after Trump announced fresh financial sanctions against North Korea on Thursday in response to its efforts to develop nuclear weapons and intercontinental ballistic missiles capable of reaching the US mainland.
Trump and Kim have attacked each other and exchanged provocative threats amid growing tension over North Korea's nuclear programme. Last week Trump referred to Kim as "rocket man" and said the US would "totally destroy" North Korea if America or its allies were attacked.
The state recently launch its sixth and largest nuclear test and fired a series of missiles over Japan.
Close