Shehbaz Sharif blames Imran Khan for rise of terror incidents in Pak: Report
Published on Jun 27, 2022 07:51 AM IST
Pakistan was placed in the grey list - the list of countries under increased monitoring - in June 2018.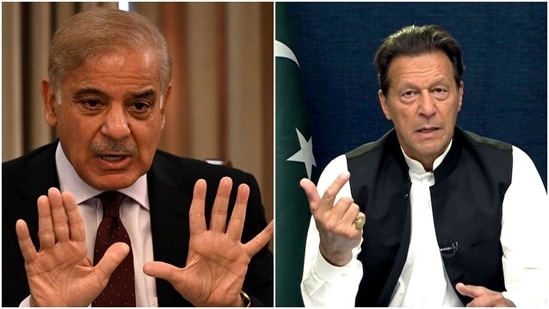 Written by Manjiri Sachin Chitre | Edited by Swati Bhasin
Pakistan prime minister Shehbaz Sharif on Sunday slammed the country's former government - led by Imran Khan - for its failure to implement the National Action Plan (NAP) against terrorism. Slamming Khan, the Pakistani prime minister - during a meeting - reportedly referred to the rise in terrorism-related incidents during the last four years, against the backdrop of a 56 percent surge in the number of terror attacks in 2021.
"We will continue our struggle till the complete eradication of terrorism. We will not compromise on Pakistan's security and defence," the Pakistan prime minister was quoted as saying by local daily The Express Tribune. Sharif also assured that the "role of provinces in the action plan will be restored" as it "did not exist in the last four years", news agency ANI reported.
Also read: Mumbai attacks planner Sajid Mir convicted week before FATF meet
After an attack on an army public school in 2014 that had killed 149 people, including at least 132 children, a national consensus was evolved to come down hard on the terrorists through a concerted national effort in Pakistan. In view of this, a 20-point NAP for countering terrorism and extremism was chalked out by the interior ministry. The NAP had a list of specifics for the counter-terrorism drive in the country - those that Sharif alleged were ignored by Imran Khan.
Terrorists have carried out 294 attacks, killing 388 people and wounding 606 in 2021, reported ANI citing a report by Pakistan Institute for Conflict and Security Studies (PICSS). It further reported that Balochistan was the most turbulent province in 2021 where 170 deaths were recorded in 103 terrorist attacks. While Khyber-Pakhtunkhwa witnessed 162 attacks that killed 180 people, 15 terrorist attacks were recorded in Sindh that left 23 dead. In Punjab, 10 terrorist attacks killed at least 10 people in 2021 as per the data.
Also read: Spying attempt on Ex-Pakistan prime minister Imran Khan foiled. Check full details
This comes as global watchdog FATF (Financial Action Task Force) is set to conduct an onsite visit to see if steps taken by Islamabad to curb terror financing are "sustainable and irreversible". Last week, the global money laundering and terrorist financing watchdog did not immediately remove Pakistan from its 'grey list'. "Pakistan is not being removed from the grey list today. It will be removed if the onsite visit finds its actions are sustainable," FATF president Marcus Pleyer had said. Pleyer further said an onsite inspection would be done before October.
Pakistan was placed in the grey list - the list of countries under increased monitoring - in June 2018.
(With inputs from ANI)
Close Story
China reaffirms threat of military force to annex Taiwan

Taiwan holds live-fire military drill to 'prep for invasion' by China In an additional response, China said it was cutting off dialogue on issues from maritime security to climate change with the U.S., Taiwan's chief military and political backer. Taiwan's foreign minister warned Tuesday that the Chinese military drills reflect ambitions to control large swaths of the western Pacific, while Taipei conducted its own exercises to underscore its readiness to defend itself.

BRI loses steam, no fresh Chinese investment post-Covid pandemic

Nine years after it was launched by President Xi Jinping, the Belt Road Initiative appears to have lost steam with virtually no new Chinese investment in third countries post-Covid pandemic. Bangladesh Finance Minster AHM Mustafa Kamal has publicly blamed economically unviable Chinese BRI projects for exacerbating economic crisis in Sri Lanka.

Did Trump break the law? FBI search raises fresh questions

The year was 2016, the presidential candidate under investigation was Hillary Clinton and the FBI director at the time, James Comey, laid out the factors the Justice Department weighs in deciding whether to charge someone with mishandling classified records. Whether an FBI search of another candidate from that election, Donald Trump Mar-a-Lago residence is a prelude to criminal charges is unknown. Multiple federal laws require the safekeeping of government secrets.

Joe Biden formalises US support for Finland, Sweden joining Nato

The countries sought out Nato membership earlier this year to guarantee their security in the wake of Russian President Vladimir Putin's offensive in Ukraine. The North Atlantic Treaty Organization's rules require the consent of all of its 30 existing members before Finland and Sweden can officially accede into the alliance, which is expected in the coming months.

Suspect in killing of four Muslim men arrested in New Mexico

Muhammad Syed, 51, an Albuquerque resident, was formally charged with two of the homicides: those of Aftab Hussein, 41, and Muhammed Afzaal Hussain, 27, killed on July 26 and August 1, respectively, but he is considered a suspect in all four murders, city Police Chief Harold Medina said at a news conference.
Personalise your news feed. Follow trending topics