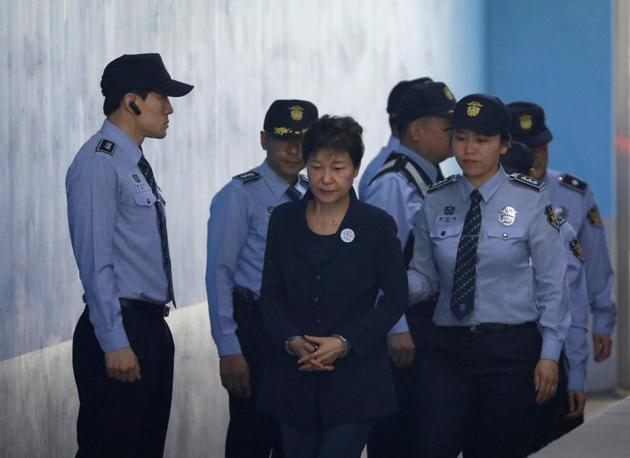 South Korea's Park denies charges in corruption trial
Park was arrested after she was removed from office after massive street protests over corruption allegations and "overflowing" evidence proving her involvement in criminal activities.
Seoul | By Associated Press
PUBLISHED ON MAY 23, 2017 04:49 PM IST
Former South Korea President Park Geun Hye denied corruption charges at the start of a criminal trial on Tuesday that could potentially send the country's first female leader to prison for life.
Police had earlier escorted Park, in handcuffs, into court for her first public appearance since she was jailed on March 31 for corruption allegations that led to her removal from office. Cameras flashed as Park emerged from a bus, her inmate number 503 attached to her dark-colored jacket, and walked into the Seoul central district court. When Judge Kim Se Yun asked Park what her occupation was, she replied, "I don't have any occupation."
Her longtime confidante and alleged co-conspirator, Choi Soon Sil, sat near Park. The two women had been friends for four decades but did not acknowledge each other.
Both Park and her lawyer, Yoo Young Ha, denied all wrongdoing.
Park's arrest came weeks after she was removed from office in a ruling by the Constitutional Court, which upheld her December impeachment by lawmakers after massive street protests over the corruption allegations that emerged last October.
Prosecutors boast of having "overflowing" evidence proving Park's involvement in criminal activities. They say she colluded with Choi to take about $26 million in bribes from Samsung and was promised tens of millions of dollars more from Samsung and other large companies. Park also allegedly allowed her friend to manipulate state affairs from the shadows.
A spokesman from the presidential Blue House said the office had no official statement to make on Park's trial. New liberal President Moon Jae In took office this month after winning a special election to replace Park.
Close