Quad nations to boost India's vaccine output
Mar 12, 2021 09:35 AM IST
When Quad leaders meet virtually on Friday, they will discuss ways to ramp up vaccine manufacturing by India and measures to get doses speedily to more developing countries
The race between India and China to provide Covid-19 vaccines to more countries across the world has moved into high gear, with efforts to ramp up delivery of doses to developing countries expected to be a key item on the agenda of the first Quad leaders' summit on Friday.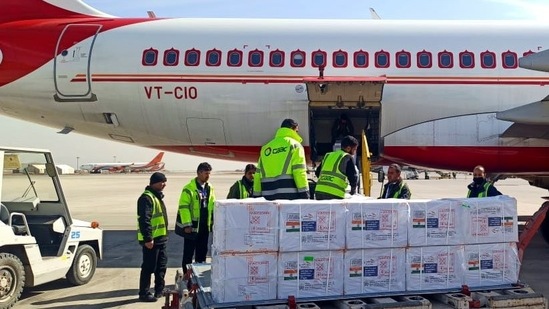 As of Wednesday, India had shipped more than 58 million doses to 66 countries, ranging from Mongolia to Sao Tome & Principe. This includes nearly eight million doses provided as grants to small and developing countries, and 16 million doses from India's contribution to the Covax global vaccine sharing scheme of WHO.
China has donated or is donating vaccines to 69 developing countries and exporting doses to 43 more countries. Unlike India, China has no publicly available official data on vaccine supplies, though officials have said the country also plans to provide 10 million doses to Covax.
When leaders of the Quadrilateral Security Dialogue, or Quad – which includes India, Australia, Japan and the US – meet virtually for their maiden summit on Friday, they will discuss ways to ramp up vaccine manufacturing by India, the world's largest producer, and measures to get doses speedily to more developing countries in Asia and Africa, people familiar with developments said on condition of anonymity.
Several options are expected to be on the table – including forming a group or fund with financial support from Australia, Japan and the US to procure vaccines from Indian manufacturers for developing countries, the people said. Another option is using India as a hub for supplying vaccines procured with the Quad's support to South and South-east Asian countries, the people said.
Japan is expected to help with establishing cold storage facilities for storing vaccines before they are shipped to countries in South and South-east Asia. Discussions are still on among officials of the four countries to firm up contours of the plan and financial contributions of the Quad members before the leaders meet on Friday evening, the people added.
The Quad Summit plans to announce financing agreements to back an increase in vaccine manufacturing capacity in India, an unnamed senior US administration official told Reuters. These agreements will focus on companies and institutions in India manufacturing vaccines for American drug majors Novavax and Johnson & Johnson, the official said. Novavax has a manufacturing arrangement with Pune's Serum Institute of India, the world's largest maker of vaccines. Johnson & Johnson has a similar arrangement with Biological E Ltd.
The initiative's aim is to reduce manufacturing backlogs, speed up vaccination and defeat Coronavirus mutations, the official said. "The idea is that the quicker you can vaccinate, the more that you can defeat some of these mutations. So this is a capacity that will come online later this year, and it will substantially increase our capacity, collectively," he added.
Indian manufacturers such as Serum Institute of India (SII), Biological E, Dr Reddy's Laboratories, Cadila Healthcare and Bharat Biotech have a combined capacity of billions of doses. SII, the world's largest manufacturer, is producing the Oxford-AstraZeneca vaccine as Covishield and will begin making the Novavax vaccine soon. India also plans to provide at least 200 million doses to Covax.
The people said all these moves are aimed at countering China's vaccine diplomacy, which initially couldn't match India's roll-out of doses since January 21 but has appeared to be catching up in recent days.
"Ramping up production will help roll out more doses as assistance and also meet the commercial needs of countries across the Indo-Pacific," one of the people cited above said.
Vaccines from Chinese firms have rolled out in countries such as Pakistan, Brazil, Indonesia, Turkey, and the United Arab Emirates. China's People's Liberation Army (PLA) has also supplied doses to the armies of Pakistan, Cambodia, Mongolia and the Philippines.
The reluctance of China's pharmaceutical companies to share details of their trials has raised concerns about effectiveness of the vaccines and lack of public confidence in several countries. Shots by Sinovac, Sinopharm and CanSino Biologics were approved for use in some countries without the publication of comprehensive Phase 3 clinical trial results.
Human Rights Watch, in a report issued on March 4, said more than a dozen vaccines developed in China are in clinical trials, with about half of them in phase III trials or large-scale studies to assess the vaccine's level of protection. "At the time of writing, only one Chinese vaccine has received emergency approval from what WHO identifies as a 'stringent' regulatory authority. None of the vaccines have received full regulatory approval or released phase 3 trial data," the report said.
In Cambodia, where Prime Minister Hun Sen has received the first shot of the made-in-India Covishield, authorities had to briefly suspend vaccinations at state-run facilities due to a clamour among people for Indian vaccines.
When Cambodia's health ministry issued a notification on March 5 asking people above the age of 60 to get inoculated, large numbers of people of all ages gathered at hospitals in Phnom Penh. "The stir caused the health ministry to suspend AstraZeneca vaccines temporarily as hospitals were overwhelmed with crowds," the Khmer Times reported on Wednesday.
Another of the people cited above said, "The people are asking for Indian-made vaccines as they don't have much trust in China's Sinopharm."
Though a close ally of China, Cambodia has sought one million doses from India. India has cleared a proposal to provide 100,000 doses to Cambodia while 324,000 doses of Indian-made vaccines were supplied to the country last week from the Covax facility. China donated 600,000 doses to Cambodia last month.
Chinese officials have sought to play down the issue of vaccine diplomacy. "A number of vaccines are now available around the world. It is up to each country to decide which one to choose. Whether it is a Chinese vaccine or not, it is a good vaccine so long as it is safe and effective," Chinese foreign minister Wang Yi told a recent news conference.
Former ambassador Vishnu Prakash said India's vaccine efforts shouldn't be seen solely in the context of competition with China.
"India has a track record of mass production of critical drugs. Look at the work done by India in providing the anti-AIDS cocktail at competitive prices to African countries. India also has had a reputation as a first responder since the 2004 Indian Ocean tsunami," he said.
"India has financial constraints and if the other members of Quad join hands, every dollar can go that much further. If the Quad shows it cannot only deliver on security issues but also on critical issues like health care, then it will establish its credentials as a more significant player in crisis management and tackling regional and global issues," Prakash added.