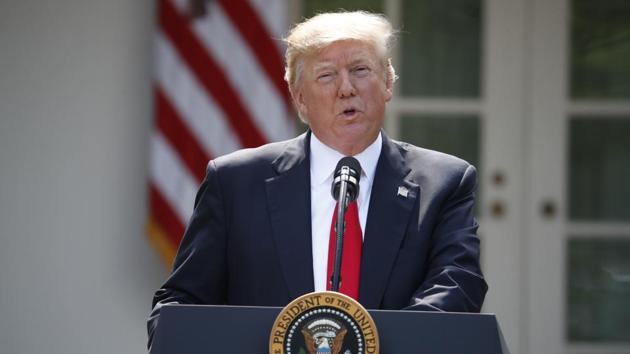 Trump announces US withdrawal from Paris climate accord, says deal not tough enough on India and China
The United States now joins the short list of countries that are not a part of the global pact signed by 195 countries in 2015 and which came into effect last November.
UPDATED ON JUN 02, 2017 07:33 AM IST
President Donald Trump on Thursday announced he was withdrawing the United States from the historic Paris Accord, saying it was bad for his country and its economy but kept the door open for a "new transaction" on terms that are fair to the US.
Trump named India and China among the reasons he called the Paris Accord unfair to the United States.
"We're getting out, but we will start to negotiate and we will see if we can make a deal that's fair. If we can, that's great," President Trump said in a speech at the White House, and went on to add, to cheers from aides and supporters in the audience, "I was elected to represent the citizens of Pittsburgh, not Paris."
"In order to fulfill my solemn duty to protect America and its citizens, the United States will withdraw from the Paris climate accord," the president said, adding, the US would begin negotiations to re-enter either the Paris accord or "a new transaction on terms that are fair to the United States, its businesses, its workers, its people, its taxpayers."
Implementing the accord, Trump said would have hit the paper, cement, iron and steel, coal, and natural gas sectors of the American economy and would have meant $3 trillion in lost GDP, 6.5 million industrial job losses and $7,000 less in annual income for American households.
He said the deal was not tough enough on China and India. China will continue polluting for a "staggering number of years", he said, referring to its self-determined mitigation target, and added, "India makes its participation contingent on receiving billions, billions and billions of foreign aid from developed countries" and while the United States was expected to cut production of coal under the accord, India could double it.
As the world's largest economy, America's exit will raise questions about the fate of the accord, though China and EU are set to announce an alliance to take on a leadership role determined to protect the Paris Accord, calling it "historic" and "irreversible".
The Union States now joins the short list of countries including Syria and Nicaragua that are not a part of the global pact signed by 195 countries in 2015 and came into effect last November, the month Trump won the election.
There are fears that some countries, reluctant participants in the process, might follow the US out of the global pact.
India is not leaving
Prime Minister Narendra Modi told German chancellor Angela Merkel earlier this week India will stay in the accord, irrespective of what the United States does. "While the US administration's leadership seems unaware of or unconcerned with the reputational and leadership costs of such a withdrawal, the Indian government is likely quite attuned to the costs, stakes, and competitive incentives as China seeks to fill the leadership vacuum," said Sameer Lalwani, a South Asia expert with Stimson Center, a think tank. "Prime Minister Modi also appears deeply invested in renewable energy, positioning India to take the lead in some sectors."
With the Thursday announcement Trump fulfilled a key campaign promise, which, however, was opposed by key aides such as Ivanka Trump and Secretary of State Rex Tillersen and industry leaders such as Tesla's Elon Musk, ExxonMobil's Darren Woods, Apple's Tim Cook and Facebooks Mark Zuckerberg.
Those in support of the withdrawal were Trump, who once called climate change a hoax perpetrated by the Chinese, chief strategist Steve Bannon and head of the Environment Protection Agency Scott Pruitt, and large number of Republican lawmakers who were pushing Trump from outside.
Exiting the Paris Accord was a key campaign issue for Trump, who like most Republicans, argued it would restrict US economy from growing through myriad regulations that would have the unintended impact of leaving the American economy at a disadvantage in relation to less scrupulous rivals such as China, India and Russia.
Trump has also complained about the United States committing to doing more and paying more when "China, Russia and India have contributed, and will contribute, nothing".
But China, at least, appears ready to do more, and, in fact, take leadership role on climate change, evolving significantly from a reluctant participant. Together with the European Union, it seems determined to protect the accord from unravelling on account of America's exit.
The EU's climate commissioner, Miguel Arias Cañete, told The Guardian: "The EU and China are joining forces to forge ahead on the implementation of the Paris agreement and accelerate the global transition to clean energy.
"No one should be left behind, but the EU and China have decided to move forward. Our successful cooperation on issues like emissions trading and clean technologies are bearing fruit. Now is the time to further strengthen these ties to keep the wheels turning for ambitious global climate action."
The impact of the US exit on global warming will be severe. Climate Interactive, which tracks global emissions and pledges, estimates that if US doesn't reach its Paris Accord goal, which it won't if it pulled out, an additional 0.3 degrees Celsius will be added to global warming by the end of the century. Climate Action Tracker, another outfit, expect lesser impact — additional 0.1 to 0.2 degrees Celsius by 2100.
Close