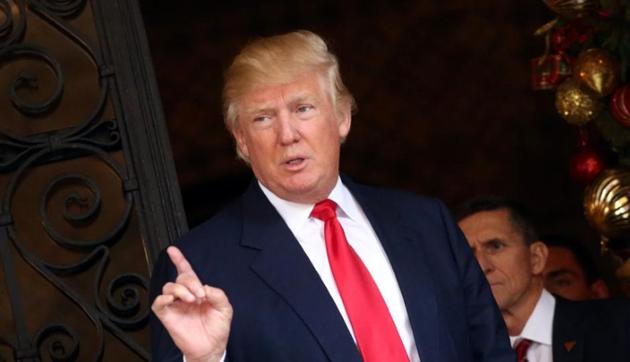 Trump switches stand on Berlin attack, but vague Muslim registry
President-elect Donald Trump has been vague on plans to create a registry or database of Muslims before, but when asked about it in the wake of terrorist attacks in Berlin, he told reporters Wednesday, "You have known my plans all along."
Hindustan Times, Washington | By Yashwant Raj
PUBLISHED ON DEC 22, 2016 04:42 PM IST
Washington
US President-elect Donald Trump has been vague on plans to create a registry or database of Muslims before, but when asked about it in the wake of the terrorist attack in Berlin, he told reporters on Wednesday, "You have known my plans all along."
If that didn't sound like a yes, it wasn't a no either, not as clearly as his transition team put it last month, saying in a statement that the president-elect "has never advocated for any registry or system that tracks individuals based on their religion".
Taking questions from the protective pool of reporters that travels with presidents and president-elects, at his resort in Miami, Trump did moderate his tone on the Berlin attack, now calling it an "attack on humanity."
He had earlier described it as an attack on Christianity and Christians, as part of Islamic State's global jihad, which was criticised for pushing the contentious narrative of a clash between two religions, or two cultures.
Flanked by officials of his incoming administration that included national security adviser Michael Flynn, who has called Islam a "cancer", Trump said, "It's an attack on humanity. That's what it is. An attack on humanity and it's got to be stopped."
But his remarks about the registry and database were less clear, and were unlikely to reassure Muslims already worried for their future under Trump's administration, with a sharp spike in reports of hate crimes against the community since his election.
Though the Trump camp has denied the president-elect is in favour of any religion-based registry or database, some of his supporters have called for the kind ordered by President George W Bush after the 9/11 attacks, of immigrants — not US citizens — from Muslim-majority countries.
That scheme was killed off by the Obama administration in 2011, as were many others found to have served their time and purpose of preventing a repeat of an attack the likes of which had never been seen before on American mainland.
The more alarming version of registry, or its memories, was the compulsory registration of Americans of Japanese descent ordered after the Pearl Harbor attack that drew the US into World War II, accompanied by internment.
But the notion of a database of Muslims teased by Trump but never spelt out that is most worrying is one that requires all Muslims in the US — not just immigrants from terrorism-affected countries — to register with the government.
Trump has never spoken of a registry, but flirted with the idea of a database, as did his allies and some of those he auditioned for a post in his cabinet.
He started by calling for a "total and complete shutdown of Muslims entering the United States".
Trump has since tweaked the plan but not abandoned it.
He has also said he will set up a commission on Radical Islam, introduce an ideological screening test and "extreme vetting" for visitors to the US from countries affected by terrorism, as determined by the department for Homeland Security.
His supporters, however, have gone beyond.
Close