Trump puts Pakistan on notice in Afghanistan policy, wants India to spend more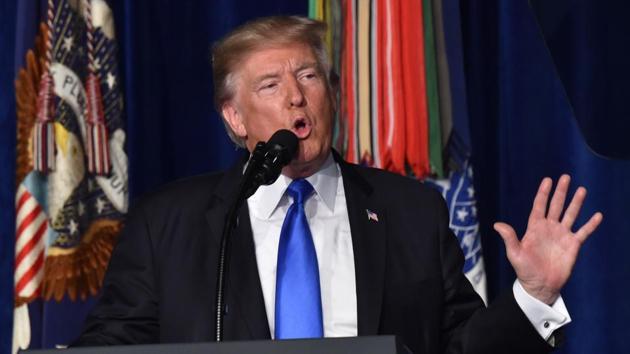 Updated on Aug 22, 2017 08:27 PM IST
Hindustan Times, Washington |
Yashwant Raj
President Donald Trump signaled Monday key elements of his new strategy for Afghanistan will be a marked toughening of US position on Pakistan for its "safe havens for terrorist organizations", along with an appeal to India, promoting its position as a factor, to do more in economic assistance.
The "core pillar" of the strategy, which he unveiled in remarks from a military facility outside DC, he said, was a "shift from a time-based approach to one based on conditions". He refused to talk about troop levels and other military plans saying he had long held such announcements to be counter-productive.
A new approach to Pakistan, the president said, was the "next pillar" of the new strategy. "We can no longer be silent about Pakistan's safe havens for terrorist organizations," Trump said in his first public rebuke of Pakistan's counter-terrorism record.
Watch the speech:
He went on to warn Pakistan that though it had much to gain from partnering with US in Afghanistan, "it has much to lose by continuing to harbor criminals and terrorists".
"We have been paying Pakistan billions and billions of dollars at the same time they are housing the very terrorists that we are fighting," the president said, venting his frustration that he has privately expressed to many. "That will have to change and that will change immediately," he said.
What if it didn't? "What is the administration actually willing to do about Pakistan?" asked Ashley Tellis, a former US diplomat and Asia expert with Carnegie, making a broader point about a policy he approved clearly —"broad thrust of the policy is admirable but the devil will be in the details".
Pakistan has received $14 billion from the United States since 2002 under a budgetary head called Coalition Support Fund as compensation providing logistical support to the US-led coalition forces in Afghanistan. It also gets financial assistance under other heads for civilian use and purposes.
India, on the other hand, will be expected by Trump to provide more economic assistance to Afghanistan. Trump put it in his own transactional manner. Calling India a key security and economic partner of the United States, the president said, "We appreciate India's important contributions to stability in Afghanistan, but India makes billions of dollars in trade with the United States, and we want them to help us more with Afghanistan, especially in the area of economic assistance and development."
The message, and the underlying threat, if any, was: India has a a big trade surplus in its bilateral trade with the United States — $24 billion — and it might want to do more in Afghanistan to escape drastic measures the Trump administration was considering against countries with trade surpluses with the US.
New Delhi had not reacted to the new expectation till the filing of this report, but it probably knew of it before the announcement was made. Secretary of state Rex Tillerson called external affairs minister Sushma Swaraj, and the leaders of Afghanistan and Pakistan, ahead of the president's speech.
Alyssa Ayers, who formerly headed the India desk at the state department and who is now with Council on Foreign Relations, said Trump's expectation from India was a good sign. "For me, the one major departure was the elevation of India to a more prominent role as a partner in this long-running conflict. We've earlier heard more about diplomacy with NATO allies obviously, with China, with Russia. But despite the US-India-Afghanistan trilateral, India hasn't been top of mind in working through the challenges in Afghanistan. That may be poised to change, which is in my view a positive step given India's capabilities".
Close Story