US-designated terrorist and leader of Harkat-ul-Mujahideen announces support for Imran Khan's political party
Fazlur Rehman Khalil, the founder of Harkat-ul-Mujahideen (HuM) and a US-designated global terrorist with links to al-Qaeda, on Tuesday joined Imran Khan's Pakistan Tehreek-e-Insaf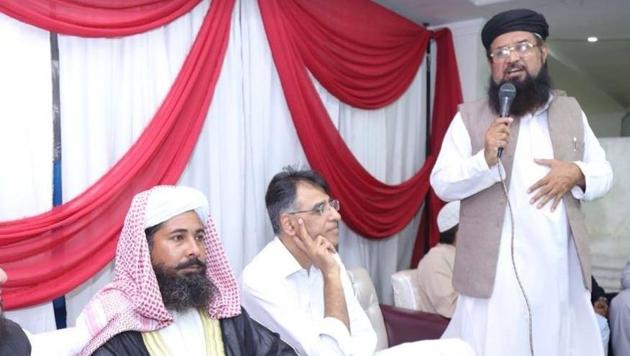 Updated on Jul 18, 2018 12:00 AM IST
Hindustan Times, Islamabad |
, Islamabad
Imtiaz Ahmad
Fazlur Rehman Khalil, the founder of Harkat-ul-Mujahideen (HuM) and a US-designated global terrorist with links to al-Qaeda, on Tuesday said he would support Imran Khan's Pakistan Tehreek-e-Insaf (PTI) party in the upcoming general elections.
PTI senior vice president Asad Umar, a close aide of Khan, had initially announced Khalil's entry into the party on his official Facebook page. A post in Urdu said Khalil had joined the PTI with his followers and clerics to support Umar's campaign for a parliamentary seat in Islamabad.
Khalil would also work to strengthen steps "to make Pakistan a true Islamic democratic state", the post added.
After the news spread on social media, Umar amended his Facebook post and said Khalil had announced his support for the PTI. Khalil also told the Pakistani media he would support Umar, whom he had hosted at a meeting on Sunday.
The development comes close on the heels of members of several terror groups, including the Jamaat-ud-Dawah, contesting the July 25 general elections. After the Election Commission refused to register the JuD's political party, its candidates were fielded under the banner of the little known Allah-hu-Akbar Tehreek.
Umar is the son of Maj Gen Ghulam Umar, accused of involvement in the killing of innocent people during military operations in the erstwhile East Pakistan.
Khalil currently heads the Ansar-ul-Umma, which was designated a front for the HuM by the US in September 2014. At the same time, Khalil was designated a global terrorist. At the time, the US said Khalil's group was responsible for terror attacks in India, Pakistan and Afghanistan. HuM was designated a foreign terrorist organization by the US in 1997 and it re-emerged as Ansar-ul-Umma in 2013.
Currently based in Rawalpindi, Khalil is believed to have retained links to several terror groups and the Pakistani military establishment. He was one of signatories of Osama bin Laden's declaration of global jihad in 1996 and has been accused of having close ties with al-Qaeda.
Khalil had co-founded Harkat-ul-Jihad-al-Islami (HuJI) in 1980 with Irshad Ahmad and Qari Saifullah Akhtar. All three had graduated from the Jamia Uloom-ul-Islamia at Banuri Town in Karachi. In May 2004, Pakistani authorities arrested Khalil for helping transport militants into Afghanistan but he was released after six months for lack of evidence.
After two former colleagues told the FBI in 2005 they had received training at an al-Qaeda camp run by Khalil, he went into hiding. At the behest of the Pervez Musharraf government in 2007, Khalil was among a group of clerics who attempted to negotiate an end to the Red Mosque standoff.
Close Story